Mylec Ultra Pro II Goalie Masks Jr

MSRP: $60.00

PRICE: $34.99
view large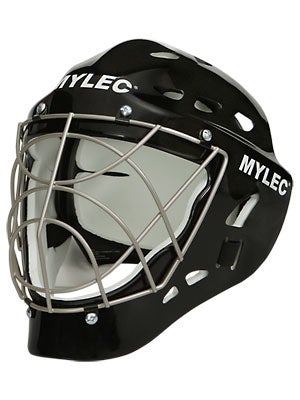 The Mylec Ultra Pro ll Goalie Mask is specifically designed for ball hockey goalies. The injection molded plastic outer shell and foam liner is extremely lightweight and provides just the right amount of protection. Adjustments can be made using the 5 point elastic strapping system allowing the goaltender to achieve a customized fit. The Mylec Ultra Pro goalie ball hockey mask comes with a cat eye cage that provides maximum visibility.
Model Number: 128
Level of player: (Junior)

Ball Hockey: Recreational
NOT INTENDED FOR ANYTHING OTHER THAN BALL HOCKEY
NOT HECC/CSA approved
Shell:

Molded high impact plastic
Full coverage backplate
Holes for maximum airflow

Cage:

Welded chrome painted steel cage
Cat eye design

Foam Liner:
Fit:

Adjustable five-point back plate strap
Quick-snap straps

Weight:
No feedback at this time.
Other Items to Consider
Mylec Hockey Goalie Masks Junior
The Mylec Ultra Pro ll Goalie Mask is specifically designed for ball hockey goalies. The injection molded plastic outer shell and foam liner is extremely lightweight and provides just the right amount of protection.

Colors: 4

The Vintage Style Mylec Goalie Mask is perfect for hanging up on the wall or using for street/ball/dek hockey. Lightweight plastic and foam design is comfortable and allows the goalie move around with ease. The Mylec Vintage mask is fully paintable giving the goalie a custom look.

Colors: 2