Mission Magnesium Hockey Chassis

MSRP: $200.00

PRICE: $139.97

Free Shipping!
view large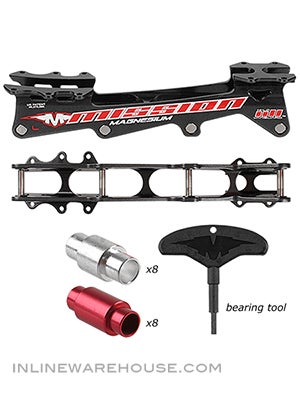 The Mission Vanguard Magnesium frame features Mission's patented Vanguard design for top performance. The Vanguard design is the next generation of Mission's revolutionary HiLo set-up which now utilizes even larger wheels! The larger wheels offer the player more speed and stopping power.
The frame is constructed of Magnesium! Which is wicked light.
This is a kit so it comes complete with bearing spacers for both standard and micro hub wheels.
Mission's patented Hi Lo Vanguard design:

The Vanguard™ frame uses 76mm(2) in the front and 80mm(2) in the rear
Vanguard explodes off the charts in performance!
Offers increased overall speed and decreased stopping distance
The perfect balance in wheel sizes - Maximizes results while still maintain a low, powerful center of gravity

Made of Magnesium Alloy - The lightest frame material used today!
Kit is complete with:


8 Axles
8 Long Sleeved 608 bearing Spacers
8 Short Sleeved 688 bearing Spacers
1 Axle Tool

Sold in pairs
Sizing Guideline

2010 skates or newer:

Frame size / Mission skate size
Small 6-7.5
Medium 8-9.5
Large 10-12

2009 or older skates:

Frame Size / Mission skate
Small / 6.0-8.0
Medium / 8.5-10.5
Large / 11.0-13.0
No feedback at this time.