Mylec Fluid Filled G-Force Hockey Balls

PRICE: $3.99

Lowest Price Guarantee
view large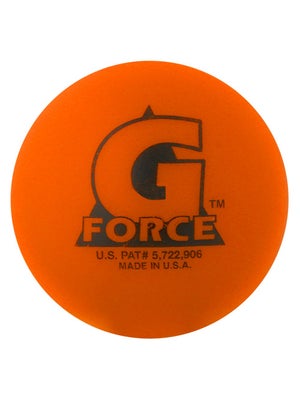 The Mylec G-Force hockey ball is the same great ball as the original Mylec ball yet it has a liquid filled center. The liquid filled center helps minimize the bounce and have a smoother roll. This is a patented design so NO other ball will play like a Mylec G-Force ball.
The best playing hockey ball in the game today!
Ideal for outdoor and indoor play.
Available in 4 different hardnesses to suit your playing environment.
If ordering in volume, to expedite your order, please order in multiples of 36.
Patented liquid filled ball
Minimizes bounce
Tough, durable, long lasting material
Colors represent the hardness of ball:

Orange:

Warm weather ball
Ideal play in 60 degrees or warmer weather
Fluorescent orange for high visibility
Most popular choice

Red:

Hot weather ball
Ideal play in 75 degerees or warmer weather
Keeps the play fast on those hot days

Pink:

Cool weather ball
Ideal for play in 30-60 degrees weather

Yellow:

Cold weather ball
Ideal for play in 30 degrees and below
Ideal for outdoor or indoor play.
Weight: 2.2-2.4 oz.
Comments: I have both hot weather red with fluid from Mylec and Franklin, I prefer the mylec, less bounce and the plastic is harder causing less ball sticking to the blade issues
From: Tristaan, CA
Comments: great ball works very well
From: Zach, VA

Comments: Good hockey ball for home stick practice or use in roller/street hockey. The ball rolls well and the fluid inside really keeps it from bouncing much and feels solid on your stick. Ball has held up well being used for street hockey and for garage practice. Got the orange one myself for visibility and it does the trick well.
From: Steve
Comments: Best street hockey balls ever made. They don't bounce around like every other ball on the market - so you can actually put some speed on passes/do saucer passes. A hard shot will definitely leave a bruise on unprotected skin, but this is street hockey. I bought one of each temperature ball and each one is designed perfectly for what they say. It is worth the few bucks to get these...
From: J
Comments: These are the best balls our league has found, we use them regularly. Be warned though... If you play in tournaments or leagues that use non-gel balls you will be at a mild disadvantage after using these regularly. Bounces are so supressed with G-Force balls that returing back to more bouncy alternatives is an adjustment. Disappointed to see the cold weather balls are now pink. The yellow ones were more visible under lights in the winter.
From: ??
Comments:These are amazing! I thought the liquid would make them hurt more but there's barely a difference. Slap passing is so much easier with these things. Definetly recommend them for a try. PS; I'm using the Orange ones in a local gymnasium and they are perfect.
From: Dan
Similar Items
Mylec Hockey Pucks and Balls