XO ID Custom Color Braces Mouthguards

MSRP: $17.00

PRICE: $9.95
view large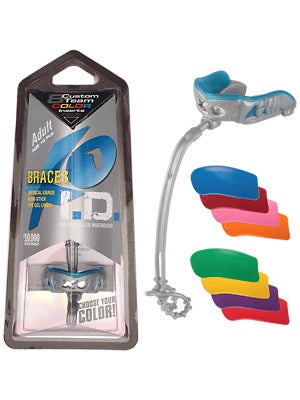 The XO I.D. Custom Color Braces mouthguards offer the unique ability to customize the color to match your team. The XO I.D. braces mouthguards are specifically designed for braces offering a medical grade non-stick TPE gel liner.
Sizes:

Adult ages 15 and up
Teen ages 10 to 14
Specifically designed for baces with medical grade non-stick TPE gel liner
Comfortable Gel Liner offers a custom fit with maximum protection
Fang design
XO Color Slot

Change XO logo to match your team color
Comes with eight team color inserts (Red, green, gold, maroon, purple, orange, blue, and pink)
Just slide the color plate into a slot next to the XO to customize the color

Rear jaw shift stabilizer to minimize shifting
Convertible removable tether
First of its kind "ratcheting" tether prevents further unfurling
$10,000 manufacturer dental warranty
45 second boil and bite molding
No feedback at this time.
XO Mouthguards
The XO I.D. Custom Color mouthguards offer the unique ability to customize the color to match your team. The XO I.D. mouthguards still offer a great level of protections backed by a $10,000 manufacturer dental warranty. The comfort gel liner and boil and bite design offer a great comfort.

Colors: 3

The XO I.D. Custom Color mouthguards offer the unique ability to customize the color to match your team. The XO I.D. mouthguards still offer a great level of protections backed by a $10,000 manufacturer dental warranty. The comfort gel liner and boil and bite design offer a great comfort.

Colors: 3
The XO I.D. Custom Color Braces mouthguards offer the unique ability to customize the color to match your team. The XO I.D. braces mouthguards are specifically designed for braces offering a medical grade non-stick TPE gel liner.

Colors: 2