Renfrew Hockey Stick Tape - USA & Canadian Flag

PRICE: $3.47

Lowest Price Guarantee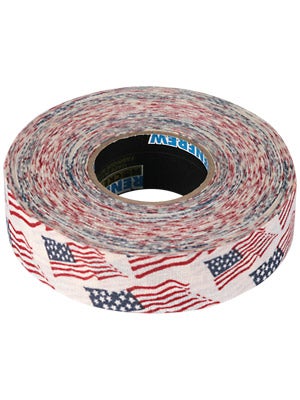 Renfrew's USA - Canadian Flag Hockey Stick Tape is quality cloth tape that improves puck handling and increases the durability of your stick blade. Renfrew superior PRO-GRADE™ technology.
This thick woven cotton cloth tape has a consistent adhesive coating that creates a moisture barrier between the ice and stick, which results in better adhesion and longer lasting product.
Show your pride. Hockey stick tape with great looking country flags. Available with USA or Canadian flags.
Model Number: 152009-USA, 152008-Canada
Measurement: 1 roll = 1" W x 27 yards L (24mm x 25m)

Cloth Stick and blade tape
Repeating patterns of the USA or Canadian flags
Renfrew's PRO GRADE™ tape - a polyester and cotton blend
Thicker cloth tape
Increase vibration absorption
Enhances puck handling
Protects your stick blade
Other Items to Consider
Renfrew Hockey Stick Tapes