Tacki Mac Command Wrapped Texture Stick Grips

PRICE: $4.99

Lowest Price Guarantee
view large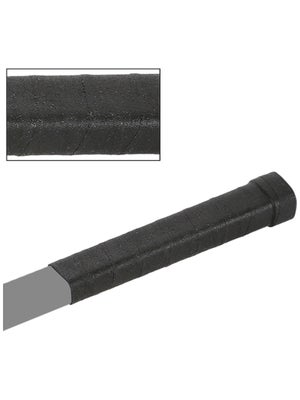 Tacki Mac's Wrapped Textured grip offers a tape like texturewith added grip and durability. Tacki Mac grips improve grip and durability.
Combine the Tacki Mac grip with the Tacki Mac's Attack pads™ for your total game control!
Wrapped textured grip - The texture pattern is like real tape with a minimal butt end. Butt end measures approximately 1/16" in height.
Length: 7 1/2" (including 3/4" butt end)
Neutrally wrapped for left and right handed players
The wetter it gets, the tighter it holds
Consistent feel from grip to grip
Won't crack or dry out
Saves money on tape
Prolongs the life of glove palms
Quick and easy to apply:

Slips over the end of the stick with a little water and soap
Double sided adhesive tape holds it in place
Complete instructions included in package

Fits senior, intermediate and junior sticks and shafts
Comments: I love this grip. The butt end is just big enough, but not too big. I would recommend this to someone who doesn't like the knob big, but not too big.
From: John, Savannah, GA
Comments: This product made my shot so much better. my stick would always move in my hand when i took a shot now it doesn't and i have much better accuracy.
a quick tip i used when putting the sticker on the stick instead of running it under warm water, as i didn't have any handy i had a spray bottle of water and a heat gun, spray the sticky sticker it comes with with water and gently heat it with the heat gun it produces the same results. then slide it on.
From: Scott, San Jose, CA
Comments: I love this one. I have the ribbed version but it was definitely on thicker side. The regular wrapped version is thinner and you can feel your stick a lot better. It feels more comfortable and natural with your gloves on than the ribbed version does. Love the product and highly recommend it.
From: Paul, CA
Comments: Love these grips, have them on all my sticks now. This style is my favorite after trying all the others. I have had the original one about 2 years and it is starting to wear down, the texture is all gone but it is still grippy and working. Unlike the first guy posted you can take these off and reuse them if your stick breaks. You need a flat head screwdriver and some goo gone. Only trouble is getting more adhesive pads. I ordered some directly fromm tacki mac. Saves glove palms too!
From: Gear Executive, Fort Collins, CO
Comments: Great Grip very inexpensive. The only negative aspect of this product us if the stick would break the grip is unable to be removed.
From: Justin, Pittsburgh PA, United States
Comments:Nice and sticky. The wetter the better. Stick handling has improved. It takes a little getting used to if your used to using regular tape because i does feel "thicker" and not as close to your stick as with tape. But the great makes up for it.
From: Brandon L
Comments:Came with simple instructions. Looks just like a tape job. Is long enough down the shaft that you can fit two hands on the grip or you could cut it down easily. Took about 45 seconds to put on stick. Good buy
From: Nathan
Other Items to Consider
Similar Items
Tacki Mac Hockey Stick Grips