Tour Evolution 6000 Goalie Leg Pads Jr

PRICE: $109.99

Lowest Price Guarantee
view large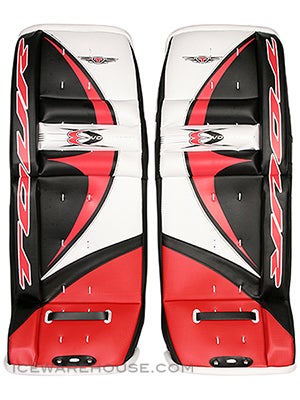 Lightweight EVA form - reduces weight and player fatigue
Custom deep Well Fit
Improved Thin-Flat Pro Contour Design - decrease puck rebound and increase blocking area
Raised sidewalls
Flex knee control - specific flex points along the pads to allow optimal 5-hole coverage
Adjustable straps
Suitable for both ice and roller hockey play
Face Width: 10"
Click "View Profiles" for images of the back and side views
Shipping Note:
Excluded from shipping promotions. Ground is only $9.75 per shipment. Please refer to the Shipping Page for further information. Must ship via FedEx/UPS only - No Postal Service
Comments: I have had these pads for a season of inline hockey, we use a puck in our league and they have held up very well. I usually skate between 1 and 3 times a week with them and they have shown little to no wear. The best part about these pads are they are so much lighter than my ice pads. The pads butterfly very well, and the extra inch wide covers a lot of net. The 36s are also about the same size as a 38, so thats even more net covered. The only down fall of these pads are the lack of knee protection. This however can be solved by wearing knee pads. Since I started using knee pads, these pads have been great. I would definitely recommend them!
From: Michael, MI
Comments:I have these pads in a size 32" and they are great. The width is perfect and they are super light weight. I use them for road hockey so they get bet up on, but after a year of owning them their still holding together great.
From: James
Comments:I bought these last year for ball hockey, and work fine, but work great for adult pickup roller hockey. Very light and well padded, easy to move and I personally don't mind the plastic buckles considering I play rec adult pickup. I don't have any slipping or fit issues and the straps can be pulled snug once clipped in. I also have the matching blocker and catcher, which are great deals and fit very well.
From:
Comments:These pads are awesome only problem is that they have four straps on top and if you put them loose then the extra part gets caught up in your skates
From:
Comments:Really nice pads for the money. Good quality material and they rotate very well. Sure they have four nylon straps with plastic buckles but I've paid alot more for pads with less quality.
From: John
Similar Items
Tour Recreational Goalie Leg Pads

Tour Evolution 6000 Goalie Leg Pads Jr

EVOLVE!

Don't just win, with the

Tour Evolution 6000 leg pads

. Using

lightweight, EVA foam

designed in as a

custom Deep Well fit

, with raised sidewalls, and a

thin-flat Pro contour

, the

Evo 6000

pads are sure to take your game above standard human capabilities.

Colors: 1


Tour Invader 150 Goalie Leg Pads Jr 27"

The Tour Invader 150 Goalie Leg Pad are designed specifically for goaltenders playing recreational street hockey and ball hockey. Heavy-duty nylon materials are used throughout the face of these pads for improved durability when playing on rough outdoor surfaces.

Colors: 1

Tour Invader 150 Goalie Leg Pads Yth 23"

The Tour Invader 150 Goalie Leg Pads are designed specifically for youth recreational street, ball and dek hockey. Heavy-duty nylon materials used on the face of these pads improves durability, perfect for playing on rough outdoor surfaces.

Colors: 1

The Tour 400 Goalie Leg Pad provides good protection and comfort for the entry to rec-level roller and street hockey goalie. Tour's lightweight design allows the goaltender to make quick precise saves and the reinforced stitching construction offers a higher level of durability.