Tapout Mouthguards Grillz Edition 2-Pack

MSRP: $16.00

PRICE: $13.99
view large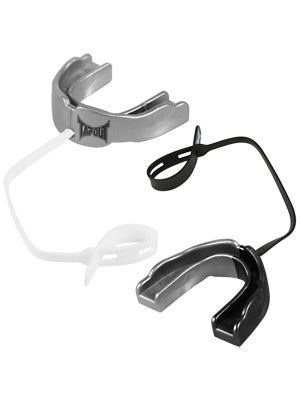 The Tapout Mouthguards Grillz Edition offer the same great protection as the standard Tapout mouth guard but designed for the real playas on the rink. The Grillz Edition offers mouthguards with a metaliic finish so they have a little bling bling. The Tapout mouth guards are also one of the only mouth guards on the market that can be molded multiple times. Straight pimpin' neva slippin' mouth guards that stand tall.
Each Tapout Mouthguard package consist of 2 mouthguards and the second mouthguard offers a different color combination. Plus the Tapout Mouthguards come with straps, but they're easily removed to transform into a strapless mouthguard.
While wearing the TapouT Mouthguard, the Temporomandibular Joint, (TMJ) fills with fluid as a natural lubricant and shock absorber. The TapouT Mouthguard properly positions your TMJ during stress related activities, so the combination of natural fluids and TapOut's Concussion Defense System gives you Anti-Concussion protection.
Created by a team of dentist, doctors, and athletes. Designed by the best for the best
Advanced Gel Technology assures extreme comfort, fit and maximum safety
Ever-Mold advanced composite

Designed for a perfect fit, even after braces are adjusted. Just re-boil and re-mold multiple times.

Air Flow Channels create Maximum Breathability for superior endurance and optimum performance
Optional easy attach strap - Mouthguards can be worn with or without the strap. With the strap removed the mouthguard has a smooth outer finish.
Top and bottom jaw stabilization technology integrated into design

Minimizes jaw motion on impact

Bottom teeth barricade protects bottom teeth and jaw
Concussion defense back by a $30,000 Dental Warranty
Sizes:

Adult - Ages 12 and above
Youth - Ages 5 -11
No feedback at this time.
Tapout Mouthguards
The Tapout Mouthguards offer great protection with an aggressive look you would expect from a brand like Tapout. The Tapout mouth guards are also one of the only mouth guards on the market that can be molded multiple times. The package includes 2 mouthguards!

Colors: 6

The Tapout Mouthguards Grillz Edition offer the same great protection as the standard Tapout mouth guard but designed for the real playas on the rink. The Grillz Edition offers mouthguards with a metaliic finish so they have a little bling bling. The Tapout mouth guards are also one of the only mouth guards on the market that can be molded multiple times. Straight pimpin' neva slippin' mouth guards that stand tall. The package consist of 2 mouthguards!

Colors: 2