Sonic Roller Hockey Pucks

PRICE: $6.99

Lowest Price Guarantee
view large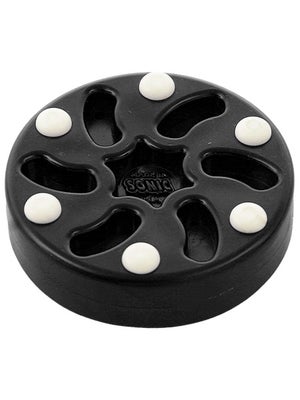 The Sonic Roller Hockey Puck is a favorite among roller hockey players worldwide. The perfectly balanced puck body and ultra-slick runners make it glide fast and play flat. Ideal for indoor play but suitable for smooth outdoor surfaces. The Sonic hockey puck is built tough with high-impact polymers and is available in your favorite color.
Stable - perfectly balanced for shot and rebound accuracy
Fast - low profile glide pegs are infused with Teflon™ for fast action
Built tough - one-piece runner system so the runner won't fall out after a hard slapshot
Pure - made in the USA with high-impact virgin polymers
Versatile - ideal for indoor play, but may be used on smooth outdoor surface
Weight- 3.5 oz.
Comments: The only puck used by the league I play at, tried and true best puck for inline. Pegs break after 2 seasons use but only during the colder season.
From: Richard, Rancho Cucamonga
Comments: These pucks work great for the price. I ordered one to try and had to order a couple more they worked so well. Great on all of the surfaces we've tried so far. Definitely recommend.
From: Sandy, Sebastian, FL
Comments: Best pucks available, period. Excellent gliding on different types of surfaces, durable, and dependable. I've played with other types, but this is always my go to puck.
From: Chadd, CA
Comments: This has been the best puck we have used so far. Slides a lot better than pro shot and the pegs are more durable.
From: Casey, TX

Comments: My friends and I use a variety of pucks, and the first one they choose to shoot at the net first is these Sonic pucks. You can get enough control on these pucks, and they are durable. Other pucks lose pegs rather quickly, but these endure more.
From: Adam, Columbia, MO
Other Items to Consider
Similar Items
Sonic Roller Hockey Pucks