SISU 1.6 Aero Adult Mouthguards

PRICE: $24.99

Lowest Price Guarantee
view large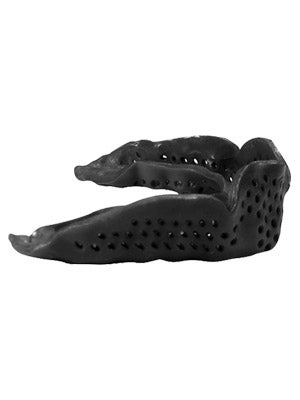 SISU 1.6 or Aero mouthguards, were developed by the scientists behind the Protech Dent™ Mouth Guard. It is extremely thin and lets you do what other guards can't - talk, drink and breathe easily. The SISU 1.6 Aero Mouthguard is proven to be 30% stronger than traditional mouthguards.
The perforation helps strengthen the mouthguard by allowing it to disperse impact better as well as increasing fit and breathing ability. What's really unique about SISU Mouthguards is that they come packaged completely flat, allowing you to get a perfectly customized fit after molding. It's the perfect mouth guard for high impact sports, team sports and high performance sports where you need to be able to be at your very best, all the time.
Fit Snugly to Your Teeth

Easy to Breathe
Easy to Talk
Easy to Drink
30-50% lower transfer of impact forces to the teeth
90-140% better absorption of impact forces
8 times higher tensile strength (toughness)
30 times less deformation of the material upon impact
Comments: I LOVE, LOVE, LOVE Sisu Guards! They are barely there. You can drink, talk (albeit with a sexy lisp), and they are comfortable. My only problem is that I have canines that stick out quite a bit from the rest of my teeth and they make the guard fit very snug. It's not really an issue, just can be a little hard to take out/reinsert at times.
From: Anna in Beaverton, OR
Comments: By far my favorite mouth guard over the years. Breathing, drinking and talking has been a pleasure with this mouth guard compared to others. I have also been knocked up side the head a few times and my teeth are all still where they should be. Which is always a bonus. That and no concussions just yet.
Also, my mouth is very narrow. In the past I have had issues with gagging on mouth guards, or cutting into my gums. I do not have this problem with the sisu. It is by far the easiest mouth guard to mold and does not cut into my gums/mouth.
From: Aubrey, Boston, MA
Comments: I'm not sure if I recommend this or not. It is small and makes it (slightly) easier to drink and talk with it, but not much more than any other mouthguard. Also, it is incredibly thin. So much so that I was hesitant to use it and some of my teammates actually advised me not to. I haven't taken a puck to the face while wearing it yet (thankfully), but if I did I'm not sure it would protect me at all. It's that thin and feels more like plastic than anything else. Also, it is very difficult to mold correctly to your mouth. I did it three or four times and it still never felt quite right. Doesn't even cover all your teeth. Bottom line is that I'm not sure it's protective enough, so honestly I probably would not recommend this mouthguard. I actually went back to one of my old, bulkier ones after buying this, just out of concern for my teeth.
From: Andrew, La Crescenta, CA
Comments: Awesome mouthguard. Is thin and doesn't take up space in your mouth, is custom molded to your exact mouth, and is breathable and light. What more do you need? It can be remolded however much you want, just stick it in water that's just warm enough to touch and let it sit for a few seconds, pop it into your mouth and it remolds. I recommend keeping it loose in your mouth during molding, just using your lips and tongue to hold it together, otherwise it felt just too damn tight on me. I remolded 3 times before I liked the fit, but that's the beauty of this mouthguard, it only took about 5 minutes to go from out of the box to how I like it. Very comfortable, convenient, easy to use. Highly recommend.
From: Justin, TN
Comments: Being able to drink water with a mouthguard in is fantastic. Being able to talk clearly with it in, AMAZING! I love my Sisu. I have them in both white and purple. White seems to be more comfy, for lack of a better word. Just FYI if you have sensitive teeth, ice cold water with this in is no fun.
From: Mo (Fearless Bleedher)
Comments: So thin and secure, it can be remolded many times... best mouth guard i have tried (i think i went through 3 others before finding SISU). I won't be buying another kind. LOVE IT!
From: Vickie (Monarch Massacre)
Comments: Great mouth guard that is very form fitting and you barely know is there. Drinking breathing and speaking are uninhibited unlike most other guards and the fit is great. one warning though. when fitting the guard dont make it too tight or it WILL be a pain to get on and off.
From: Matt, NY
Other Items to Consider
Sisu Mouthguards

SISU 1.6 Aero Adult Mouthguards

SISU 1.6 or Aero mouthguards, were developed by the scientists behind the Protech Dent™ Mouth Guard. It is extremely thin and lets you do what other guards can't - talk, drink and breathe easily. The SISU 1.6 Aero Mouthguard is proven to be 30% stronger than traditional mouthguards.

Colors: 9

SISU 2.4 Max Mouthguards were developed by the scientists behind the Protech Dent™ Mouth Guard. It is extremely thin and lets you do what other guards can't - talk, drink and breathe easily. The SISU 2.4 Max Mouthguard is proven to be 50% stronger than traditional mouthguards.

Colors: 5

SISU Kids Mouthguards

SISU Kids Mouthguards are perfect for children ages 7-10 and are made from 100% kid safe materials that protect 30% better than conventional mouthguards. SISU's ultra-thin 1.6mm profile makes for easy breathing, talking, and drinking!

Colors: 8