Smart Hockey THE ORIGINAL Stick Handling Training Balls

PRICE: $10.99

Lowest Price Guarantee
view large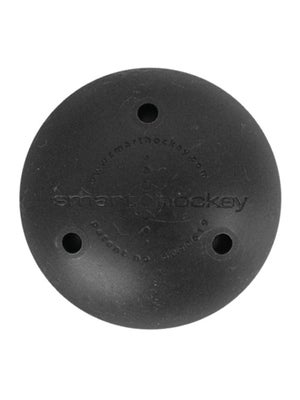 The SmartHockey THE ORIGINAL Stick Handling Training Balls are the ideal off-ice training tool for any hockey player. For years European and Soviet players have used wooden stick handling balls before games and for off-ice skills training to develop lightening quick, soft hands. With advances in space age materials, SmartHockey patented a stick handling and shooting ball which even more closely replicates an ice hockey puck's weight, bounce co-efficient, slide co-efficient and height at which the puck contacts the stick. The patented, two-piece dynamic core technology feels so much like an ice hockey puck that pro, collegiate and high school players across North America are using the ball as an essential part of their off-ice skills development.
Dynamic Core:

Patented two-piece ball technology combines surlyn® shell with high density low rebound space-age thermoplastic core giving the training ball the exact feel of an ice hockey puck. The solid core covered by the surlyn shell eliminates any pliancy or "smushing" of the ball between the stick and the skating surface whether you're training on a tennis court, basketball court, paved street, driveway or down in your basement

Weight:

The ball is lighter than an ice hockey puck, sitting at 4.3oz. to compensate for the extra friction of off-ice surfaces. The difference in weight makes the ball "feel" like a puck, which makes it perfect for developing lightening quick hands for puck control, shooting and passing.

Height:

The diameter of the ball is 2.1875" making the height at which it contacts the stick 1.09" which is less than one tenth of an inch higher than an ice hockey puck. The tangent point combined with the weight of the ball tricks the player's muscle memory into thinking they are working with an ice hockey puck.

Bounce:

The high density low rebound core has approximately the same bounce coefficient as a frozen ice hockey puck. Dropped from a vertical distance of three feet a frozen ice hockey puck and the smart|hockey stickhandling and shooting ball only bounce 11". This gives the ball the same "dead" feeling of an ice hockey puck against your stick.

Slide:

The surlyn® shell rolls or slides over any surface at any temperature at the same rate that a puck slides on fresh ice without becoming pliant or "smushy" making it perfect to develop quick, soft hands necessary to become a good stick handler.
Comments: Awesome taught me toe drags and easy to use inside, even on carpets.
From: Alex, CT
Comments: Works well and has a decent feel. Works on all surfaces (even carpet), but it feels a little slower than a puck on ice or the green biscuit; toe drags feel slow. I would recommend it for anyone who wants to work on their hands off ice.
From: Matt, IL
Comments: Great for off-ice training.
From: Travis, VA

Comments: Good product. Great for stick handling around the house. Helps with developing fast hands and muscle memory. I like the weight and that it does not bounce around. It does not have the same feel or behavior of a puckÉItÕs a ball. I use this in conjunction with other products to work on stick handling.
From: Nick
Comments: This ball is great for practicing stick-handling in an apartment or in a garage. I like to just go back and forth with it and my stick while watching TV. Would highly recommend this to anyone looking for something to practice with.
From: William FL
Comments: I like the weight combined with the ease of use that comes with it being a ball.
From: Ryan, NC
Comments: This training device would be last on my list, With the wooden ball in first and green biscuit in second. I do have all three, this one wasnt my favorite. I dont know why, maybe i like the stickhandling balls to be lighter and pucks heavier. Not sure, its all preference, still a good aid though.
From: Peter
Comments: I got this ball for stick handling practice in close quarters (my garage), & it works perfectly for that purpose. The added weight makes it more realistic, or puck-like. Great value, second only to the Green Biscuit
From: Chris
Other Items to Consider
Smart Hockey Training Pucks & Balls
The A&R 3 Pack Stick Handling Balls come in three different weights to give players the perfect balance for training off the ice. The red 6 oz. ball weighs the same as an ice hockey puck for normal puck simulation. The 3 oz. blue ball is lighter than a traditional puck to work on developing quicker hands and reactions. Finally, the 10 oz metal ball is built to strengthen wrists and forearms for effortless stickhandling come game time.

The SmartHockey THE ORIGINAL Stick Handling Training Balls are precisely matched to mimic the feel of an ice puck because of the core, weight, height, bounce and slide on any off-ice surface. Allows you to practice your stick handling skills anywhere and anytime. No more excuses.

Colors: 8
The SmartHockey MINI Stick Handling Training Ball is the best way to train your hands to be lighting quick as this ball is built with a lower profile and is much lighter than a regulation ice hockey puck. Built with the same material as the original SmartHockey ball, it has the same slide, weight, and bounce as an ice hockey puck, but it sits at 3oz., which is half the weight of an ice hockey puck. This reduced weight is to help train your hands to be more quick, giving you much more puck movement on the ice. The reduced diameter of the ball gives the ball a low profile, which aids the player in making more precise toe drags and more controlled stick extensions.

Colors: 7

The SmartHockey MAXX Stick Handling Training Ball was based off the design of the original SmartHockey ball but with a big weight difference. This ball is made with the same material as the original SmartHockey training ball and has the same slide, contact height, and bounce as a regulation ice hockey puck. However, they increased the weight to 10oz. as opposed to 6oz. so that it could strengthen the player's forearms and wrists. This would in turn make the player's hands "soft," making it much easier to handle a normal ice hockey puck.
The SmartHockey Off-Ice Training Puck is the ideal training puck for off-ice stickhandling and shooting. With its 5-piece core technology, the SmartHockey puck stays flat on any surface so crisp passes and wicked shots can be taken outdoors. Additionally, Its sturdy construction allows players to shoot and pass as hard as they can without fear of it breaking.

Colors: 7