Shock Doctor Ultra Double Braces Mouthguards

PRICE: $25.99

Lowest Price Guarantee
view large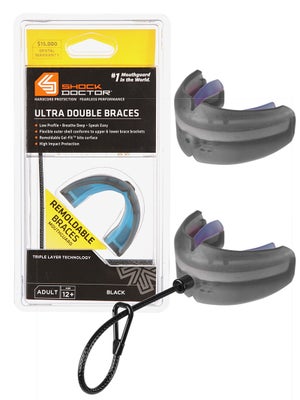 The Shock Doctor Ultra Double Braces Mouthguard is precisely engineered for players that have braces on the upper and lower teeth. This low profile mouth guard allows players to breathe in deeply and freely as well as speak easily. The Shock Doctor Ultra Braces mouth guard has a flexible outer shell and remold-able Gel-Fit™ bite surface, which conforms to the brace brackets in both regions. This definitely is a high impact protective mouth guard allowing for fearless performance.
Model Number: 4801
Tether: Convertible
Shock Doctor Recommended Sizing Guidelines:


Size / Age in Years


Adult / 12+


Construction:

Triple-Layer Construction - Flexible outer shell conforms to teeth and brace brackets.

The internal core provides another level of stability for both the upper and lower teeth.
The lower perimeter of the Gel-Fit™ below brace brackets increases retention.
Remoldable after bracket adjustment.

Breathing Channels - allow for freer flow of air and easier breathing
Full coverage on the upper and lower teeth

Fit:

Fit System - Low Perimeter Gel Fit™

Insta-Fit™ Plus - An ortho channel fits around brace brackets and adapts to changes in tooth position as the braces are adjusted.

This provides an adaptive fit that is comfortable and protective against laceration.

Convertible Tether - A quick-release tether allows the mouth guard to be used strapped or strapless.
Other Items to Consider
Shock Doctor Mouthguards & Cases
The Shock Doctor Nano 3D Mouthguard is a great addition to any players game. The Nano 3D adds yet another "Best in Category" mouthguard that if worn properly, positions the lower jaw down and forward creating a separation of the Condyle jaw joint which may increase strength and performance.

Colors: 4

The Shock Doctor MicroFit Mouthguards are fully formable to give players a completely custom fit. The MicroFit mouthguard starts out flat, but forms perfectly to each person's teeth to lock the protection in place. This low profile design gives players unparalleled breathing, speaking and drinking.

Colors: 5
The Shock Doctor SuperFit Mouthguard provides a tight-locking fit for superior breathing and speaking. Its Gel-Fit™ Liner gives the mouthguard a softer interior that form fits to the shape of each player's teeth.

Colors: 6

The Shock Doctor Ultra 2 STC Mouthguard is a great addition to any players game. The Ultra 2 reflects adjustments in structural design and material density that improves the fit and retention of the STC (Shock Transfer Core™) system. The multi-layer design integrates deeper dual bite zones and a new gel fit formulation. If worn properly, the Ultra 2 STC positions the lower jaw down and forward creating a separation of the Condyle jaw joint which may increase strength and performance.

Colors: 6
The Shock Doctor Gravity 2 STC Lower Mouthguard is a low profile mouthguard fitted for the lower teeth. Designed specially for sports where a helmet with a face guard is used. The Gravity mouthguard allows for unrestricted breathing and more natural speaking. Available in Senior size with or without helmet strap.

Colors: 2

The Shock Doctor Flavor Fusion Gel Nano Mouthguards provide players with stellar protection, a totally personalized fit and season-long infused flavor. The Flavor Fusion technology was developed to integrate just the right amount of flavor into a mouth guard while maintaining Shock Doctor's well known protection.

Colors: 5
The Shock Doctor Gel Nano Mouthguards offers a soft Fit Gel that custom molds for a tight, comfortable fit. Available in Senior and Youth with a detachable helmet strap.

Colors: 18

The Shock Doctor Gel Max Flavor Fusion Mouthguards have all the same features as the original Gel Max mouthguard, but with flavors infused into the mouthguard! You're still getting all the same protection with a great taste that is designed to last an entire season.

Colors: 6
The Shock Doctor Gel Max Mouthguards have a heavy-duty rubber Exoskeletal Shock Frame and Gel-Fit liner that provides maximum protection for an easy-to-fit triple layer design. Available in Senior and Youth.

Colors: 10

The Shock Doctor Pro Mouthguards are a proven dual composite construction with internal shock-absorbing frame that offers protection and fit, which out performs conventional mouthguards. Available in Senior and Youth with or without helmet strap.

Colors: 2
The Shock Doctor Ultra Braces Mouthguard is precisely engineered for players that have braces. This sleek low profile mouth guard allows players to breathe in deeply and freely as well as speak easily.

Colors: 5

The Shock Doctor Ultra Double Braces Mouthguard is precisely engineered for players that have braces on the upper and lower teeth. This low profile mouth guard allows players to breathe in deeply and freely as well as speak easily.

Colors: 5
The Shock Doctor Braces Mouthguards Blue are specifically designed for players with braces. Constructed of 100% Medical Grade Silicon for ultimate comfort. Integrated Ortho-Channel fits securely over braces, protecting the mouth from lacerations and provides an instant fit. Available in Senior and Youth with or without helmet strap.

Colors: 2

The Shock Doctor Braces Mouthguards Blue are specifically designed for players with braces. Constructed of 100% Medical Grade Silicon for ultimate comfort. Breathing channels through the center of the mouthguard allow for freer flow of air and easier breathing.

Colors: 2
The Shock Doctor Braces Mouthguards Pink are specifically designed for players with braces. Constructed of 100% Medical Grade Silicon for ultimate comfort. Integrated Ortho-Channel fits securely over braces, protecting the mouth from lacerations and provides an instant fit. Available in Senior and Youth with or without helmet strap. Now available in PINK.

Colors: 2

The Shock Doctor Braces Mouthguards Pink are specifically designed for players with braces. Constructed of 100% Medical Grade Silicon for ultimate comfort. Breathing channels through the center of the mouthguard allow for freer flow of air and easier breathing. Now available in PINK.

Colors: 2
The Shock Doctor Anti-Microbial Mouthguard Cases provide secure, clean and ventilated storage for all mouth guards.

Colors: 5