Phat Hockey Shin Guard Tape 1 in x 30 yds

MSRP: $3.00

PRICE: $1.99
view large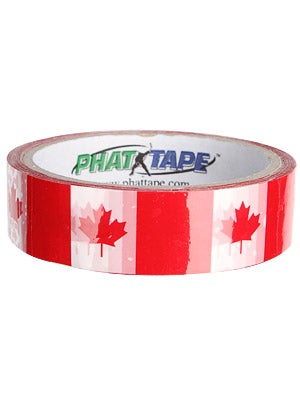 Hold your shin guards in place with a little attitude. PHAT Tape has designed a stretchable 1" tape that allows players to easily gain a snug fit for their hockey shin guards. The tape allows just the right amount of elasticity to give the player's legs room to breathe and be comfortable, yet hold the shin guards securely in place.
1 roll = 1 in x 30 yards
Ideal for securing and stabilizing shin guards
Water resistant
No feedback at this time.
Phat Hockey Shin Guard Tape
PHAT Tape also offers shin guard tape in a 2" wide tape. The wider width improves holding power and allows for bold graphics to be printed. Available in several patterns.

Colors: 21

Holds your shin guards in place with a little attitude. PHAT Tape has designed a stretchable 1" tape that allows players to easily gain a snug fit for their shin guards. The tape allows just the right amount of elasticity to give the player's legs room to breathe and be comfortable, yet hold the shin guards securely in place. Available in 2 patterns.

Colors: 6