Mr Zogs Sex Wax Hockey Stick Wax

PRICE: $2.99

Lowest Price Guarantee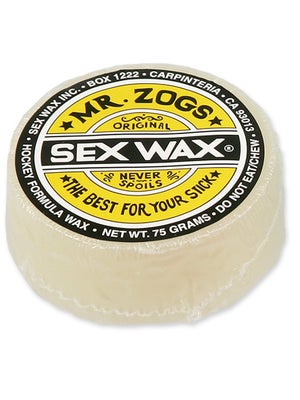 Mr Zogs Sex Wax has been the leader in surfboard wax since the early 70's. Using their vast knowledge of wax, Mr Zogs has produced the perfect wax for hockey blades.
Mr Zogs Sex Wax offers added performance and life to the blade as well as provide a fresh scent. Each color has an unique scent.
Color / Scent


White / Coconut
Blue / Pineapple
Purple / Grape
Red / Strawberry

Prevents snow build-up improving stick handling, passing and shooting
Protects blade and prolongs life of tape
Water repellant
Extra tacky
For all ages and skill level
Easy to apply - Simply rub on the taped surface of the blade
Colors basically rub on clear. A slight tint of color is visible.
Net Weight - 75 grams/bar
Comments: This works very well for absorbing water and keeping your stick fresh. I would recommend trying the blade butter though. It is a few more dollars but it works better in my opinion.
From: Kyle, Boynton Beach, FL
Comments: This stuff is really unbelievable. I can't believe I did not try wax sooner. It really does help repel snow & water from your blade and adds nice grip while stick handling and shooting. I will always use this product from now on. I love the name too!
From: Paul, CA
Comments: CHANGE THE NAME FOR THIS PRODUCT. This does not set a good example for our children who play this sport!!!!! We need to remember that our children value what others say and this name does nothing to help our children except cause problems.
From: ??
Comments: This stick was is so fresh and tasty to eat. It works pretty well on tape too, nicely preventing snow accumulation and friction burn on the bottom of the blade.
From: Stephen, Leicester, UK
Comments: Pretty wicked wax that's soft enough when applied and stays put well. Fairly tacky but I still like to apply a good portion of it. Repels water awesomely and always lasts longer than my tape jobs. The scent is a nice bonus. If you can find the "cold water formula" it works awesome.
From: Jack, Ontario, Canada
Comments: Once I tried it, I was sold on it. Try the Coconut Scented! (I contemplate sneaking a bite every time I use it, & it offsets a Hockey Bag Funk nicely.)
From: Chris
Comments: great for tricks and puck control, repells ice and water but the tape always tears easily but if you tape your stick every game you will be amazed with this porduct
From: Jack
Comments: What a night & day difference this stuff makes. Will use it on every stick I own.
From: Chris, NY
Comments: best stick wax ever
From:??
Comments: Smells great, works great.
From: Andrew, Rancho Cucamonga, CA
Other Items to Consider
Similar Items
Mr Zogs Hockey Stick Wax
Mr Zogs Sex Wax has been the leader in surfboard wax since the early 70's. Using there vast knowledge of wax, Mr Zogs has produced the perfect wax for hockey blades.

Available in 4 scented colors.

Colors: 4