IDS Pro Shot Roller Hockey Pucks

PRICE: $6.87

Lowest Price Guarantee
view large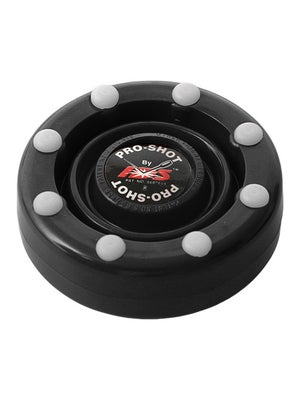 Special Bulk Price: Buy 5 or more pucks and the price drops to $6.40 each! Quantity discounts only apply to orders consisting of the same color.
The IDS Pro Shot roller hockey puck has a solid, fast feel and comes in several colors. Great for indoor and smooth outdoor play.
PVC body with Teflon pegs
Harder durometer and stiffer feel than average
Solid, fast feel
Center weighted to minimize rolling
Ideal for indoor play, but may be used on smooth outdoor surfaces
With replaceable glide pins available the IDS puck has increased longevity
Recommend use for 60° and above
Weight- 3.6 oz.
Comments: Great overall puck for both indoor and outdoor play. The fact that the glide pins are replaceable was a big plus for me as I mostly play in an outdoor rink. The first experience I had with it was good, although it did roll up more than other pucks I've used. This is probably due to the rounded edges on the puck, but as the pins wore down it stays flat more often than not. I like the size and feel of it, not too flat so it's easy to handle. Overall a great purchase for any sort of application, indoor or outdoor.
From: Ben, CA
Comments: This puck is amazing it's like sliding a puck on the ice. It rarely will bounce or go low on your shots unless you try to make it go low In my words ITS AMAZING!!!
From: William, Chantilly, VA
Comments: This is a great puck. Good movement on indoor surfaces, durable, and easy to handle. Great movement when shooting too! Overall a really good option for an afternoon of indoor inline hockey.
From: Dustin, West Lafayette, IN
Comments: Definitely one of the more durable and better gliding roller pucks out there but I found out this winter that they do NOT do well in cold weather. And by cold I mean only 30-40 degrees or so. I play at a covered outdoor rink. A few solid posts and lower boards and these pucks will shatter due to the small amount of plastic between the outer edge and the pegs. If you play in colder weather I recommend the models from Mission or Franklin. A little heavier but much more durable.
From: Gary, Duluth, GA
Comments: Honestly, the only puck to get. The others out there pale in comparison. It's not meant for asphalt or concrete, but it excels on sport court. It's the ONLY puck I buy. (Plus, if any of the white little plastic studs pops out, you can buy a 16-pack of replacements for like 2 bucks
From: Scott, Savannah, GA
Comments: On painted concrete you may get 5 to 10 games out of it as the pegs wear down really fast. Great for sport court though.
From: Harry, PA

Comments: this puck is amazing from what I've seen so far. My friends and I have always played on tennis courts, and we have always used a ball. any other puck we have ever used always bounces all over the place or doesn't glide more than 10 feet. this puck is what we have been looking for. stays flat even after putting sauce on it. rang it over the cross bar plenty of times and still going strong. highly recommend it.
From: Luke
Comments: I've been using this along with the Green Biscuit to practice off the ice in the summer weather. This puck has been great so far, but it flips over too much on pavement, just as an actual puck would. Overall, this is a nice puck and I would recommend it to anyone who needs to practice outside.
From: Larry, GA

Comments: Have used these pucks since i was a young pup! Only puck we use in my leagues.
From: Brandon, TX
Comments: Basic, standard puck. Nothing to complain about. Prefer the rocket puck, but never complain about the IDS
From: Nick, CA

Comments: This puck is a little lighter than a standard puck (4oz compared to 6oz) so it is a little different, but the feel is pretty similar to a rubber puck. You can only really use this puck on a very smooth surface or it will jump all over the place -- those claiming you can use this on asphault must have some pretty smooth driveways. The friction coefficient is not as good as some other roller pucks I have used, and so it takes a bit more getting used to. Also, something nobody has pointed out yet is the fact that the sides of the puck are made of a rubberized plastic, so that your stick will grip it better. However, this means the puck will roll more, so I prefer the solid plasic pucks over this one. Overall, a good puck, but I do not prefer it when compared to other, more reasonably priced ones.
From: Joe, Pennsylvania
Comments: Nice puck that slides well in the smooth surface of my garage where I use it for stick and shooting practice. Has a good feel that's close to a normal puck and handles similarly. The sliding pins have held up well and I haven't had to replace them yet. Has held up to plenty of slappers and hits against he wall with out chipping or breaking. A solid puck
From: Steve
Comments: This puck is great! We use it in our roller hockey league and just bought one to practice in my garage! Great product... works on many surfaces.
From: Glenn
Comments: do not use them when the weather is cold , if not they break easily, we use them since 3 years, the best puck for us in normal condition
From: Eric, Paris (France)
Comments: Excellent puck, handles & glides really well, and it's especially nice that you can change out the pins for new ones after awhile.
From: Chris, NY
Comments: We all like these pucks and use em in our outdoor league twice a week year round, good weight to em, not too light,(i.e. Sonic pucks) not too heavy, however they break too easily in colder temps,upper 30s-50s during the winter in Vegas, DO NOT use these pucks in temps colder then 60 degrees. we've had em break upon hitting the steel crossbars of the net and the fence, they break all the time, one night we went thru 6 of them! We do however, like that they come in bright colors for night outdoor rink use i.e high visibility(pink, yellow, orange) work the best, unlike some of the other roller pucks that come in only black
From: ??
Comments:Slides really good on brick concrete and asphalt you can hammer it on a steel regulation net and it still won't break.I would recommend this street puck to any one who loves and want's to get better at the game!!!!!!!!!!!!!!!!!!! love it
From: Nicholas
Comments:Great puck. It is very durable, perfect for street because it stays flat very well and has alot of grip for a better shot. Great Puck.
From: Taylor
Comments:This is my #1 choice of pucks! Well balanced. Very easy to stick handle with. Fast. No wobbles or sinking of the puck when shot. Light weight. Great puck.
From: Brandon L.
Comments:Pucks are great. We don't have a choice but both my leauge's uses these pucks so what can I say. I took one off the face, but it doesn't hurt. So it's a damn good puck
From: Lawrence
Comments:These pucks are great, I love them, however they break way to easy I prefer using Rockets but this is defiantly the next in line.
From: Tyler Colorado Springs
Comments:I love these pucks, they work great for warm weather shooting on the driveway. I put the puck in a vice and use a thin phillips head screwdriver and a small hammer and tap the pins out. It causes no damage and works well. Ryan has a good comment too, and i will give it a try but also know, that using a drill could lead to puck damage.
From: Mike
Other Items to Consider
Similar Items
IDS Roller Hockey Pucks
Special Bulk Price: Buy 5 or more pucks and the price drops to $6.40 each!

The IDS Pro Shot roller hockey puck has a solid, fast feel and comes in several colors.

Great for indoor and smooth outdoor play.

Colors: 9

Replacement glide pins for IDS pucks. Easy to install. Package consist of 16 pins.