Renfrew Hockey Stick Tape - Assorted Colors

PRICE: $2.97

Lowest Price Guarantee
view large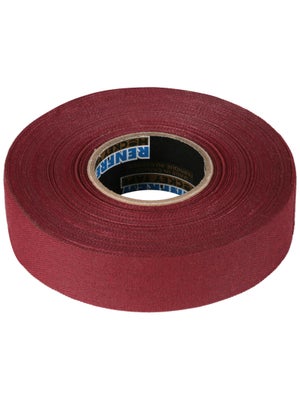 Renfrew's Assorted Colors Hockey Stick Tape is PRO GRADE™ tape. This thick woven cotton cloth tape has a consistent adhesive coating that creates a moisture barrier between the ice and stick, which results in better adhesion and a longer lasting product.
Measurement: 1 roll = 1" W x 27 yards L (24mm x 25m)

Product Note: inner core color is changing from black to green but actual tape is exactly the same.
Cloth stick and blade tape
Renfrew's PRO GRADE™ tape
Thicker cloth tape
Increase vibration absorption
Enhances puck handling
Protects your stick blade
Comments: Very durable stick tape. Renfrew is the way to go.
From: Kyle, Boynton Beach, FL
Comments: If you aren't a pro at stick taping, this stuff may not be for you. It has very little forgiveness compared to the Comp-0 stuff. Nothing wrong with the tape, it just cannot handle even the smallest of angle corrections without ending up with a crease, fold, or bubble on your blade. Pros: Its cheaper and still sticks to your blade.
From: Kyle, Seattle, WA
Comments: Comments:There is nothing better than Renfrew
From: ??
Comments: Still the best hockey tape out there. Extremely adhesive and durable. Add a bit of wax if you are intent on making it last a little longer.
From: Stephen
Comments: The BEST hockey tape out there.
From: Chris, NY
Other Items to Consider
Similar Items
Renfrew Hockey Stick Tapes