Easton E700FM Gunmetal Hockey Helmet Cages Sr

MSRP: $65.00

PRICE: $44.99
view large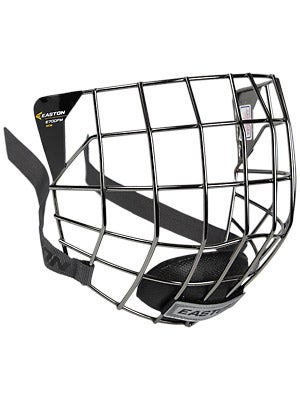 The Easton E700FM is the premier cage from Easton. The E700FM features a lightweight design with increased visibility. The sublimated lycra-covered compression molded chin cup offers a great fit that floats with the chin, preventing compression cuts.
The chin cup also has moisture channels to limit the amount of moisture that stays in the cup, reducing the possibility of mold growing. The neutral gunmetal color helps to increase visibility so you can track the puck lightning fast.
Model Number: A178507W
Heritage: New
Compatibility: Compatible with most certified hockey helmets and is and will fit on all Easton helmets.
Construction:

Multi-frame carbon steel wire construction providing lightweight feel with excellent visibility
Enhanced design profile provides increased facial coverage

Vision:

Gun metal chrome finished helps to diminish light reflection and has a mean aggressive look

Comfort:

Sublimated lycra-covered, compression molded chin cup

CSA, HECC, CE certified
Mounting hardware included
The E700FM cage is a replacement cage for the Easton E700 helmet
No feedback at this time.
Easton Hockey Helmet Cages
The Easton E700FM is the baller cage of the year. This all-white E700FM cage offers great visibility and even more style points than money can buy.

The Easton E700FM is the premier cage from Easton. The E700FM features a lightweight design with increased visibility. The sublimated lycra-covered compression molded chin cup offers a great fit that floats with the chin, preventing compression cuts.

Colors: 1
The Easton E500FM Cage has many of the same features as the E700FM. The E500FM has the same basic cage construction, but with silver carbon steel wires. The E500FM has a lightweight design with increased visibility. The sublimated lycra-covered compression molded chin cup offers a great fit that floats with the chin, preventing compression cuts.

Colors: 1

The Easton E300FM Cage is the most affordable cage from Easton. The E300FM features a lightweight construction and increased visibility. The compression molded chin cup offers a great fit that also has moisture channels that helps prevent the growth of mold.

Colors: 1