Comp O Stik Hockey Stick Tape - Black

PRICE: $2.97

Lowest Price Guarantee
view large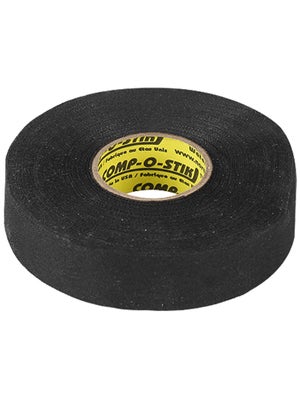 Comp O Stik Black Hockey Stick Tape comes from New York and offers quality hockey stick cloth tape that's durable and improves puck control. Cloth stick and blade tape.
Model Number: 603050
Measurement: 1 roll = 1" W x 30 yards L (24mm x 27m)
Enhances puck handling
Protects your stick blade
Comments: Black tape is best for ice because it hides the puck and does not show puck marks like white tape
From: Gear Executive, Fort Collins, CO
Comments: this is great tape works perfectly thank you for putting it for sale
From: ??
Comments: Solid non-friction hockey tape. I use the black colored tape and it goes on easy and lasts a long time before needing to be replaced. It works well on either the blade end or the butt end of a stick and does what you expect hockey tape to
From: Steve
Other Items to Consider
Similar Items
Comp O Stik Hockey Stick Tapes