Bauer NME 7 Painted Goalie Masks Sr

PRICE: $429.95

Free Shipping!
view large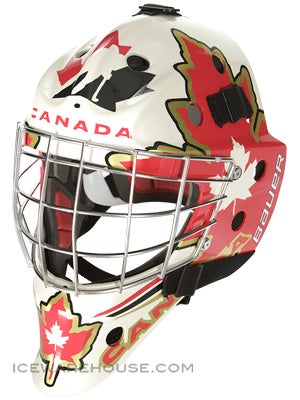 The Bauer NME 7 Painted Goalie Masks offer great performance along with an incredible look. With several paint jobs to choose from, you'll be able to match your team colors, but still have a style all your own.
The Bauer NME7 masks are constructed from fiberglass reinforced with carbon providing high-quality protection as well as a lightweight feel. The Quad-density liner offers excellent protection with a variety of foam densities. The use of different foam densities also increases the overall comfort of the mask.
Bauer has also used vibration dampening technologies to keep your head from ringing if you take a big shot from the point straight to the dome.
The NME 7 is offered in 3 different fit types to ensure a great fit.
Model Number: 1034197
Heritage: Bauer NME 7
Level of play: (Senior)

Roller: Professional
Ice: Advanced

Bauer Sizing Guidelines:

Mask Size // Head Size // Head Circumference
Fit 1 // 6 3/4 - 7 1/8 // 20.8" - 22.4"
Fit 2 // 6 7/8 - 7 1/4 // 21.6" - 22.8"
Fit 3 // 7 1/8 - 7 5/8 // 22.4" - 24"
*This product is Certified by CSA, HECC and CE
Shell:

Exclusive lightweight composite fiber construction
Multiple ventilation holes throughout helmet

Cage:
Foam Liner:

Mechanically attached quad-density foam liner
Gel comfort zones

Fit:

Standard foam chin cup with adjustable velcro features
Fully adjustable 1" five-point back plate strap
Adjustable nylon chin strap

Sweatband:

Soft sweatband included to keep sweat off the face
No feedback at this time.
Other Items to Consider
Similar Items
Bauer Hockey Goalie Masks Senior

Bauer Concept C1 Non-Certified Goalie Masks Sr

The Bauer Concept C1 Cat Eye Goalie Mask provides top of the line protection and features like newly redesigned composite outer shell. The Bauer C1 non-certified cat eye helmet provides maximum visibility and professional level durability and styling hockey goaltenders strive for.

Colors: 2


Bauer Concept C1 Certified Cat-Eye Goalie Masks Sr

The Bauer Concept C1 Certified Cat Eye Goalie Mask offers the same pro-level composite outer shell as the straight-bar mask but comes with a certified cat eye cage. Bauer's Concept C1 is one of the most advanced goalie masks to date, providing top of the line quality and protection for today's goaltenders.

Colors: 2

Bauer Concept C1 Certified Goalie Masks Sr

The Bauer Concept C1 Certified Goalie Mask offers a completely new shell design and features that provide professional level protection. The Concept C1 is Bauer's most advanced goalie mask to date, providing today's goaltenders with the latest technologies.

Colors: 2


Bauer Concept C2 Non-Certified Goalie Masks Sr

The Bauer Concept C2 Cat Eye Goalie Mask provides advanced level protection, maximum visibility and is built using ultra lightweight carbon fiber materials. Advanced materials are used throughout the Concept C2 goalie helmet including PORON® XRD™ foams for additional comfort and protection.

Colors: 2

Bauer Concept C2 Certified Cat-Eye Goalie Masks Sr

The Bauer Concept C2 Certified Cat Eye Goalie Mask provides advanced level protection with the use of ultra lightweight carbon fiber materials. The Concept C2 goalie helmet uses advanced materials ensuring high quality and protection including PORON® XRD™ foam for excellent comfort and safety.

Colors: 2


Bauer Concept C2 Certified Goalie Masks Sr

The Bauer Concept C2 Certified Goalie Mask is completely new for 2013, delivering advanced level shell protection with the use of carbon fiber materials. Various technologies have been included on the Concept C2 goalie helmet including PORON® XRD™ advanced liner protection.

Colors: 2
The Bauer Profile 961 Goalie Mask offers goalies top of the line professional grade lightweight protection. The Profile 961 offers goalies maximum visibility with the (NC) non-certified cat-eye wire face mask.

Colors: 2

The Bauer Profile 951 Certified Goalie Mask is new for 2012, and offers goalies excellent lightweight protection. The Profile 951 is constructed using a fiberglass shell reinforced with KEVLAR® fiber that not only offers great protection, but also keeps the weight down.

Colors: 1
The Bauer Profile 950 Certified Goalie Mask is new for 2012, and offers goalies excellent lightweight protection.

Colors: 2

The Bauer Profile 941 (NC) Goalie Mask provides greater visibility then the Profile 940 mask because of the non-certified cat eye cage. The 941 mask is constructed from fiberglass and is designed for goaltenders playing up to the intermediate levels of ice hockey.

Colors: 2
The Bauer Profile 940 Certified Goalie Mask shell is constructed from fiberglass offering solid protection and performance. The 940 mask provides lightweight protection suitable for goaltenders playing up to the intermediate levels of ice hockey.

Colors: 5

The Bauer NME 9 Pro Non-Certified Goalie Mask is the top end goalie mask made by Bauer. The N/C cat eye design allows for increased visibility, but does not offer the same level of protection as traditional certified cages. Bauer added titanium reinforcement to the NME 9 chin and forehead areas, to add strength to the shell and decrease weight.

Colors: 2
The Bauer NME 7 Painted Goalie Masks offer great performance along with an incredible look. With several paint jobs to choose from, you'll be able to match your team colors, but still have a style all your own.

Colors: 6


Bauer NME 7 N/C Goalie Masks Sr

The Bauer NME 7 Non-Certified Goalie Masks are constructed from fiberglass reinforced with carbon providing high-quality protection as well as a lightweight feel. The Non-Certified cat eye cage on this mask allows for increased visibility. The NME 7 masks are offered in 3 different fit types to ensure a great fit for anyone.

Colors: 2
The Bauer NME 7 Certified Cat Eye Goalie Masks use a certified carbon steel wire cage. The certified cat eye design allows for increased visibility, while still providing great protection to the face. The NME 7 masks use a quad-density foam liner to provide maximum protection.

Colors: 2

The Bauer NME 7 Certified Goalie Masks offer a lightweight composite fiber that offers great protection and a lightweight feel. Bauer has also used vibration dampening technologies to keep your head from ringing if you take a big shot from the point straight to the dome. The NME 7 is offered in 3 different fit types to ensure a great fit.

Colors: 2
The Bauer NME 5 Design Goalie Mask is a great price point mask from Bauer offered in 6 eye popping colors. The shell is a Lexan EXL polycarbonate shell with several ventilation holes to keep the head cool. The NME 5 liner includes dual density comfort foams, and light weight Hex foam for added impact dispersion. The NME 5 also mask comes with a carrying bag to keep that custom paint job fresh.

Colors: 14

The Bauer NME 5 Goalie Mask is a great price point mask from Bauer offered in a show stoping matte black color. The shell is a Lexan EXL polycarbonate shell with several ventilation holes to keep the head cool. The NME 5 liner includes dual density comfort foams, and light weight Hex foam for added impact dispersion. The NME 5 also mask comes with a carrying bag to keep that black paint job fresh.

Colors: 4
The Bauer NME 3 Goalie Mask is a solid entry level mask that offers good protection and fit. The shell is a Lexan EXL polycarbonate shell with several ventilation holes to keep the head cool. The NME 3 features a comfort VN liner and an adjustable chin strap. The NME 3 mask also comes with a carrying bag to protect your investment.

Colors: 17


Bauer NME 3 Goalie Masks Sr

The Bauer NME 3 Goalie Mask is a solid entry level mask that offers good protection and fit. The shell is a Lexan EXL polycarbonate shell with several ventilation holes to keep the head cool. The NME 3 features a comfort VN liner and an adjustable chin strap. The NME 3 mask also comes with a carrying bag to protect your investment.

Colors: 2