| | |
| --- | --- |
| Green Biscuit Training Hockey Puck | PRICE: $12.99 |
view large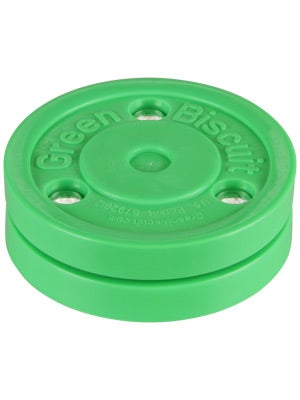 Special Bulk Price: Buy 4 or more pucks and the price drops to $10.00 each!
The Green Biscuit is an off-ice training hockey puck that will help you and your team develop better stick handling and passing skills. The Green Biscuit weights about an ounce less than an official ice hockey puck, but with the added friction from concrete or asphalt it acts just like the real thing does on ice.
Click on the Product Video link to the right to see it in action.
Hard plastic training puck
2-piece design helps absorb vibrations to keep the puck flat and gliding on rough surfaces
Glides effortlessly on virtually any hard surface (driveways, streets)
Feels and acts like a real ice puck
Makes off ice training convenient and fun
Not designed for shooting
Comments: They now make a green biscuit designed for shooting. Not available here yet so check your local hockey store.
From: Mike, Syracuse, NY
Comments: I bought the Green Biscuit two months ago, and all I can say is WOW. It's two piece design is perfect because it enables the puck to stay flat on almost any surface. This is the ultimate puck because it glides nice and smooth, just as a regular puck would on ice. This puck is great for practicing toe drags, and saucer passes. I stickhandle with this puck for atleast an hour everyday and it has been just as durable as the day I bought it. I have used a lot of training tools to improve my skills, and this is by far the best one I have found. I highly recommend this product to anyone looking to improve their stickhandleing and passing. I often get asked at the rink, "What is your secret to having such quick hands?" I say, "It's the Green Biscuit, you should go to Icewarehouse and get you one."
From: Blake
Comments: These are great for practicing, they feel like real pucks, and they slide on almost any surface. The only problem I had is I didn't know they were not intended for shooting, so a little piece broke off when I took a hard shot. It still works great though, so overall I'm happy with this. It's definitely worth the money.
From: ??
Comments: Can be used on every surface imaginable. Slides amazingly well. Best training aid off the ice. Says not recommended for shots, but I've found it to be nearly indestructible.
From: Ryan, NC
Comments: This is a great training tool for stick handling. The best aspect is that you can use it almost anywhere. It works great on
asphalt. The dimensions being the same as a regular puck help with feel.
From: Nick
Comments: The green biscuit is amazing. It slides on almost any surface, so I can practice almost anywhere. It's also very durable. I've used it for a long time and it's still in pretty good condition.
From: ??
Comments: One of the best, training device if you do not have access to shooting pads, or anything of the sort. This puck will slide on almost any surface. Concrete asphalt, you name it. I've had this puck for 3 years, and it still is holding up. The only down fall of it would be that it looks like it wears down because of the friction, but thats normal.
From: Peter
Comments: This puck does exactly what it says it does, it is a training puck to practice your stick handling and passing. What I am amazed at is how easily it slides on surfaces that most "street" pucks have a hard time sliding on, I use this puck in my driveway to practice stick handling and it does extremely well, I don't shoot this puck, only stick handling and passing.
From: Joshua
Comments: This thing slides everywhere. Road, rink, cement. It's great to practice with. Highly recommended. Only issue is mine went down my sewer lol!
From: Mark
Comments: Amazing puck for off-ice play however they do break quite easily if you are using them for game play. I play 2-3 times per week with a group of people for about 3-4 hours at a time and we usually go through at least 1 biscuit per week. If they were a bit more durable they would be THE best puck on the market.
From: Kevin
Comments: I own more than a dozen of these things, purchased here and there over the years and after years of abuse from a son with a mean wrist shot but (originally) not so much accuracy, while I had a blistering slap shot....with not so much accuracy....and thus, we've done our share of damage to these things while missing the net, but not the car, the mailbox, and above all else,the curb across the street. Only NOW are they showing signs of extreme use, with some larger chipping, but even THOSE pucks are more of a danger to slicing my nets than to anything else. Even broken, they still float across the asphalt like vulcanized rubber on ice. I shoot a minimum of 150 shots or more per day, using nothing but the Green Biscuits, and even though they say they aren't designed for shooting, here we are, 5 or 6 years later, still firing away, and only now having to replace 2 of the more than a dozen pucks I bought, originally because my son kept losing them in the trees. They also feel great in goal gear, not bouncy like street balls. I play a lot of hockey in the streets and tried a lot of different supposed "roller hockey pucks," but in all my experience there's nothing I'd rather use than a Green Biscuit! I'm glad they're cheaper now, too! $15 a pop was a bit steep, but worth every penny, and even more so today!
From: Tina, Oregon
Comments: This puck is seriously the best puck I've ever used. As a goaltender sometimes I can loose track of where the puck goes but it being lime LIME green really does help. Super easy to spot and follow. And still tough enough to shoot at goal (not recommended because it does chip a little bit after time, but still tough enough to do so). Greatest 10 bucks I've ever spent on a puck, highly recommend you get some
From: Joe M
Comments: The Green Biscuit is the greatest non-ice training aid I've ever used. Seriously.
From: Michael, USA
Comments: This puck is fantastic. Probably the easiest gliding puck on concrete for passing or training I've ever seen. It's nice and heavy, great for stick handling and 1v1 play. As a side note, they say it's not for shooting at all, but I admit I have two of these and have taken hundreds of hard shots at a goalie with pads on, hitting the post more often than I'd like to admit too. It's very durable and I haven't seen any broken chips yet, just make sure you're goaltender buddy realizes it's probably a harder shot than what he's used to during summer play
From: Scott
Comments: One word: AMAZING!!!! I bought three of them 2 years ago thinking that one of them (if not more) was going to break down. Well 2 years later I'll gave the other 2 away because 1) the original one I was using was still going strong and 2) I wanted to show others how amazing these thing are. My only regret is that i wish I would have thought of making this thing!
From: Hockey Dad
Comments:Really great for up commers and it is durable and slides really good I reccomend it to any one who wants to start and plays the game
From: Nicolas
Comments:This puck is incredible. The weight and the balance make it much easier to use and improve your skills. Perfect for passing and improving Stick handling.
From: Taylor
Comments:Handles just like a puck on ice. It's a little lighter than a normal puck. Strong enough to bank off a wall for short passing drills. Works best on slightly rough surfaces that aren't perfectly smooth. Good buy
From: Nathan
Comments:These biscuits kick a$$. That's all.
From: ??
Comments:I love green Green Biscuit simply put. I play mostly on a rough cement surface, where sometimes a ball has trouble gliding if it's to hot out. From the first time I set it down I could tell this was like no other puck. I think since the height is slightly bigger then other roller pucks, I think it makes it easier to practice/improve stickhandling as well as make the transition from roller to ice. A must buy training puck!
From: Joe, PA
Comments:This puck glides amazingly well across rough surfaces. It has great weight and feel to it and handles very well. It has also held up amazingly well to the abuse my son and I have dished out to it. I bought one thinking that if it worked well, I would buy more. This one has held up so well, we don't need to buy another one.
From: Trey, Memphis, TN
Comments:I have been buying stickhandling balls, street hockey pucks, and whatever training items I could find to help for stickhandling and passing. I bought a couple of Green Biscuits in the beginning of the summer based on a recomendation and they are exceeding all expectations. I bought them to practice with my kids (9)(7) and we do everything from keep away, to passing games, toe drags. Both went from having weak passes and struggling to catch hard passes to become very good at both. Our street is rough ashphalt and both kids can pass this puck 75 yards if they have proper heal to toe release. They are great to practice saucer passes as well b/c if the pass is done right way the puck will land perfect and keep going.
From: Chris
Comments:I ordered this for my son who plays roller hockey, and he said it is very similar to the puck he uses in games. It glides well across the driveway, and he was able to use it for practice shots on the net. He said that using this puck makes practicing at home more realistic.
From: ??
Comments:The Green Biscuit is literally the best trainig off ice puck I've ever used. It works on every surface. A must have for improving stickhandeling.
From: Michael, IN, USA
Comments: Ok... I'm just a normal dad. I bought several of these things for my son and I not knowing what to expect. Well all I can say is the green biscuit exceeded expectations!
My son and I routinely go out into the street, in front of our house, and have a catch with this thing. Passing it back and forth usually a good 20 to 30 feet apart. The rougher the surface, the better it works. Im serious when I say its as if we were on the ice.
My son will even pass it to himself buy shooting it to the street curb. It bounces right back to him even if hes stand a good 10 feet away.
It got to the point that we TRIED to break it. We only exceeded after 2 or 3 slapshots (and they had to hit the post).
Anyways great production!!!!
From: Bruce, Philadelphia Pa

Green Biscuit Training Hockey Puck
The Green Biscuit is an off-ice training hockey puck that will help you and your team develop better stick handling and passing skills. The 2-piece design allows the Green Biscuit to glide effortlessly on virtually any hard surface. Watch the Product Video and see it action.

Special Bulk Price: Buy 4 or more pucks and the price drops to $10.00 each!

The Green Biscuit Snipe Training Hockey Puck is skillful in improving your sniping performance. The Green Biscuit Snipe puck is an off-ice training hockey puck that helps develop exceptional shooting skills. Some noticeable features that differentiate it from its prototype are its shooting capability and increased durability, weight, material, and color scheme.

Special Bulk Price: Buy 4 or more pucks and the price drops to $12.99 each!