Xsjado 2.0 Team Aggressive Skates SKELETONS ONLY

SALE: $99.97

Free Shipping!

Lowest Price Guarantee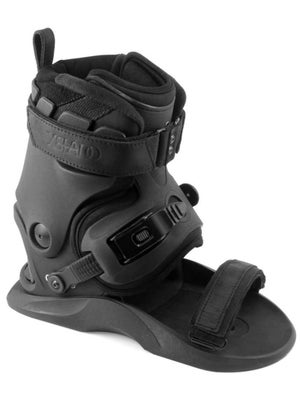 The Xsajdo Team 2.0 Skeletons are out of the closet and ready to roll, featuring numerous improvements such as a new soulplate, improved liners and cuffs. The soulplate now comes in 4 sizes, unlike only 2 sizes from previous models, meaning the boot is sized to fit better for all sizes. New cuff material and better memory foam in the liner increase comfort which will improve fit and support, without limiting mobility. Approved by Mr. Xsjado himself, Chris Farmer, these skeletons will provide a better fit and be more comfortable overall, while still maintaining that rugged Xsjado durability and capability.
NOTE: These are BOOTS ONLY and will not come with wheels/frames/bearings.
Type: Aggressive
Skill Level: All Levels
Sizing Guideline: Xsjado skeletons are adjustable and are meant for use with medium to high volume, low or mid cuff shoes. Sizing is based on standard US shoe sizing.
Includes T-Nuts and Bolts for frame mounting
Shell Sizing (US sizes)

Size 1 : 4.5 - 7.0
Size 2 : 7.5 - 9.0
Size 3 : 9.5 - 11.0
Size 4 : 11.5 - 13.0
Model Year: 2015
Model Number: 730035
Boots/Shell:

Xsjado 2.0 Shell

With new soulplate sizing
Cuff and shell attached

Xsjado Relief-Cut Pedal Top Cuff
Memory Foam Tongue Padding
Slim Instep Design
UFS Frame Mounting Compatible
Tri-Strap Closures

Velcro In-Step Strap Attaches Through Shoe Wrap
Mid Strap with 3-Position Side Adjustment and Heavy Ratchet Buckle
Double Wrap Velcro Ankle Top Strap

3-Position, Double Ring Mount

Does not include footwraps
Single boot weight : approximately 2lbs 8oz (Based on size 9)

Liners:
Comments: I ordered theses Xsjado 2.0's from IW with the 2.0 Midtop Footwraps. At first these skates right out of the box can be somewhat uncomfortable, but after some changes to the skate for the placement of the ankle strap, cuff, and top strap, these skates fit and feel great. There is something to note on these new 2.0's; they have the xsjado feel, but they have so much more support. I was used to hard boots and making the transition to the 2.0's, it sort of has the feel of the traditional skate boots, but with all the best parts of Xsjado skates.

I really dig the 1 piece soul and feel it's a great improvement to the first generation, those felt a too clunky to me. Also after skating the 2.0's for several sessions they don't have that loose feel that you would with the 1.0's after only a couple of times of use. I also put a pair of powerblade frames with them just to cruise through the city. Because of the new ankle strap I feel so much more secure in the skate. I highly recommend these skates to anyone wanting to try a pair of Xsjados for the first time. Or if you are a fan of the first gen Xsjado, I think you will like these better.
From: Preston
Comments: The Xsjado 2.0's have been long anticipated, I ordered the skeleton only, but have footwraps from previous Xsjado's to use with these. The new 2.0 skate have many new improvements over the 1.0s. Firstly, probably the most notable difference would be the souls, these are a very huge improvement over the originals. Having a one piece design provides a more stable skate when landing grinds, or air. The shell itself now comes in 4 sizes instead of 2, I was happy about this as I normally wear the large shell Xsjados, wearing a size 10.5 footwrap I was able to get the 9.5-10.5 skeleton , once I adjusted the shell size for my footwrap, they feel much less clunky as the original Xsjados, which is definately a good feeling. Grinding on the new soul plates compared to my old xsjados is really a big improvement and slide much, much better. The 2.0s also have a thinner, tongue and mid section, being made with a memory foam type gel for better comfort compared to the originals. The new cuff design is nice, and provides the support you want while still giving you the flex Xsjado is known for. Are they worth getting over the Original 1.0? I would have to say without hesitation, Yes without a doubt. I personally love the Xsjado brand skates, I use these for street and powerblading, giving the convenience to wear your footwraps once getting to your destination is awesome, and sets Xsjados in a league of their own. If you have or haven't skated Xsjados in the past, I would give these a try, you'll find the new design makes these much more complete, and a definite step u p for the Xsjado.
From: Mike
Other Items to Consider
Xsjado Inline Skates
Skeleton Boots Only - No Footwrap/Liner
Type: Aggressive
Level: All Levels

The Xsjado Chris Farmer 6 2.0 Skeleton Boots (CH6), pay homage to times past with colors that emulate a classic NES game cartridge. Even the skate box has been designed to provide the same nostalgic look.

Skeleton Boots Only - No Footwrap/Liner
Type: Aggressive
Level: All Levels

The anticipation has been building to this! The Xsajdo Team 2.0 Skeletons are out of the closet and ready to roll, featuring numerous improvements such as a new soulplate, improved liners and cuffs.