Tour Thor G1 Roller Hockey Goalie Skates

MSRP: $300.00

PRICE: $219.99

Free Shipping!
view large
360 View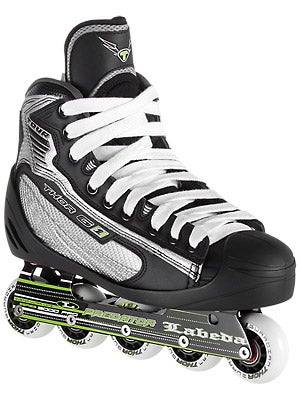 The Tour Thor G1 Roller Hockey Goalie Skates provide excellent performance at a great value price.
The Thor G1 goal skates use a new surlyn material in the quarter package to provide a stiff feel but at a lighter weight. The quarter package of the Thor G1 goalie skates uses the same construction as Tour top of the line skates, which means the skates will have a great responsive and stiff boot. Tour has also used some carbon looking overlays in the quarters to provide a sleek look to the Thor G1 skates. With the Thor G1 goal skates, Tour has used an enhanced cowling design that is more durable than previous skates, so you can get a longer life out of these skates. Tour has utilized the same great Labeda Predator Pro frames on these skates, but they have raised the skate up a bit more to allow for straps and laces to go through without interfering with the wheels. Tour has introduced their own 59mm Tour Thor Guardian goalie wheel on with these skates along with BEVO Abec 9 bearings.
The Tour Thor Goalie skates use a Clarino leather liner to hep keep the skate dry and provide a comfortable feel on the foot. Under this liner are ankle pockets that have soft foams which also helps to provide a comfortable fit. These skates feature a Custom Lateral Support System which stabilizes the ankle without sacrificing any protection or comfort. Another nice feature of the Thor goal skate is found in tongue. Tour has used some extremely rigid foams to provide excellent lace-bite protection to the top of the foot.
Model Number: 73GLINLSK8
Heritage:
Level of Player: (Senior)
Sizing Guidelines:

Tour skates generally fit 1 size down from your regular shoe size. Click on Sizing Chart for more sizing information.
Quarter Package:

New surlyn material in the quarter allows for improved support with a lighter weight
Same great construction as the top end Thor skates
Carbon looking overlays

Liner:
Ankle:

Soft foam ankle pockets
Custom Lateral Support System - stabilizes your ankles without sacrificing comfort

Tongue Construction:

Mesh on the inner side provides a great comfortable feel while also providing great airflow
Lace-bite protection on the front side using extremely dense foams

Footbed:

Felt footbed contours to the foot to help stabilize your foot into the skate

Cowling and Chassis:

Enhanced cowling design provides increased durability
Labeda Predator Pro Chassis

Designed with more of a gap between the outsole and the wheels helps to eliminate straps and laces from interfering with the wheels

Wheels and Bearings:

Tour 59mm Thor Guardian goalie wheel - 76A
BEVO Abec 9 Bearings
Weight:

3.33lbs (Based on a size 9.0 D skate)
Comments: Comments:To answer Jacks question about sizing, these skates run a size large so if you wear a 10 order 9. I ordered half size smaller but wear extra thick socks to make up difference.
From: Lyle, Houma, LA
Comments: For anyone who has bought these skates: The website recommends going a size below your normal shoe size. Is that accurate? I wear a size 10 shoe, but depending on the skates, I can fit into a 9 or 10.
From: Jack
Comments: Awesome goal skate for the money, great feel and response. Labeda wheels rock, boots fit well, didnt bake them and they broke in fast! IW is the best, unbelievable customer service! This skate from this company is a no-brainer for anyone getting into the net, or looking for some fresh skates.
From: Mike, CA
Comments: Ordered these from inline warehouse and received them in 2 days, in time before my next game! Great service. Like i said, played first game in them with no break in time. First impressions, the boot is much higher than my bauer goalie skates were, so it bit me near the bottom of the inner calf my first use. Maybe laced to tight. Also wheels are a little larger which made me feel higher up. But after the first skate, they broke in very nice. Very comfortable after just one use!Great support and seem durable, only used 16 times.They have improved my game and I would def recommend.
From: Lyle, USA
Comments:Got these from IW a couple weeks ago, played 4 games with them so far. Great skates, boot is a little high for my taste and lace bite at the top of the ankle was hellacious for the first 2 games. I decided to skip the top eyelet and wrap around the boot - lace bite is gone and they feel more comfortable like my ice skates. This is my first pair of goalie inlines and Ive been using the stock wheels with no issues so far. Cowlings seem to be holding up well. Very stiff boot (which i love) but very comfortable and no blisters at all - the lacebite was the only issue. And free 2 day shipping? Right on, IW.
From: Joe
Comments:These skates are fantastic. My game improved almost instantly after putting them on. The hard foam on the tongue really make sthese extremely comfortable by getting rid of the lace bite. Great skate at a great price.
From: John
Comments:First off, great customer service by IW after 2 weeks of backorder. The skates arrived the day after they were shipped. Thanks to everyone who helped. Now the skates. Im upgrading from the Tour Redline 5000's that ive had for 2 years. Used the G1's in my game last night and i was very impressed. It took some time getting used to a new stiffer boot, but after throwing in some Superfeet i had laying around, they felt very good. I wont need to bake them (not sure if that is even an option) and my feet didnt hurt at all. They offer tons of support and most of my problems with the Redlines have been taken care of with the G1's. Lacebite was my biggest issue and cowling wear was another concern. I believe the new cowlings will hold up much longer. Didnt even bother with the wheels, put on my Hyper Virtue wheels instead. The stock wheels are very hard... and white. WHY WHITE!?!?! Anyways, im very very impressed with the skate, i know it will hold up for a long time and i know it will be a definate improvement over the Redlines.
From: Andrew
Tour Roller Hockey Goalie Skates

Tour Thor G1 Roller Hockey Goalie Skates

The Tour Thor G1 Roller Hockey Goalie Skates provide excellent performance at a great value price. The Thor G1 goal skates use a new surlyn material in the quarter package to provide a stiff feel but at a lighter weight. Tour has introduced their own 59mm Tour Thor Guardian goalie wheel on with these skates along with BEVO Abec 9 bearings.


Tour Redline 5000 Roller Hockey Goalie Skates

The Tour Redline 5000 Roller Hockey Goalie Skates are specifically designed for inline goaltenders. Tour's Redline goalie skates offer increased mobility, better balance and more protection for improved technique and performance.

Sizes Available: 4.0, 5.0