Smith Scabs Elite Elbow Pads

PRICE: $39.00

Lowest Price Guarantee
view large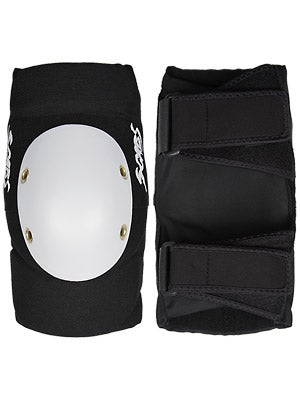 The Scab Elite Elbow pads are the ultimate level in protective products. High quality and built to last. Designed by pros that know a thing or two about taking a hit and walking away. Perfect pads for Skate, Roller Derby or the any other sport where you require top notch protection.
Professional design for Snow, Dirt and Street
Level 2 Rated protection
Open adjustable back design
Rugged Cordura nylon casing that keeps all padding in its proper place
Velcro closure for easy entry
White hard cap
Sizing: Because the manufacturer supplies no specific sizing information, the following guidelines should be used when determining fit.

Pad Length

Small/Medium - 9 inches
Large/X-Large - 10 inches

Top and Bottom Strap Lengths

Small/Medium - 11 inches to 14 inches
Large/X-Large - 13 inches to 16 inches
Comments: These pads did not fit me well at all. Some players absolutely love them, but personally, I am a tiny gal (5' and about 150lbs), these just slid right off of me with any amount of pressure. They also cover a huge amount of your arm. from about mid-forearm to mid-bicep. If you bruise easily on your arms or are a larger skater, these will likely be a good fit for you!
From: Anna in Beaverton, OR
Comments: I hate wearing pads! Always have but these aren't so bad, lol. They're comfy, they fit well, aren't too bulky or restrictive and they def do their job protecting me! I have the matching knee pads as well and they have gotten me to start wearing my pads more. I dig 'em!
From: Mike from Orlando, FL

Comments: I ordered a L/XL and they are very snug, the velcro straps on one pair are shorter than the other, but they work. Took a really heavy fall on my right elbow and it definitely kept me from going to the hospital. Well worth wearing these if your trying to learn new moves.
From: k4, va beach, va usa
Other Items to Consider