Smith Scabs Elite Elbow Pads Leopard

PRICE: $39.00

Lowest Price Guarantee
view large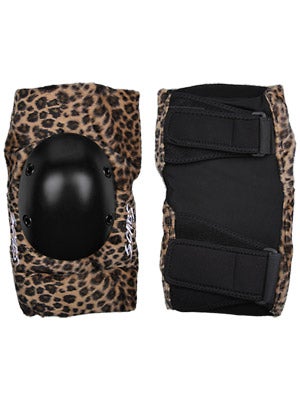 Smith Scabs Leopard Print Elbow Pads are built for extreme skate street/ramp riding. These elbow pads feature articulated design that forms to the elbow making it a flexible and contoured non sliding fit. The special foam system provides ultimate protection on impact areas and adds longevity to the pads. The wide, adjustable fitting elastic strap and two adjustable neoprene/velcro closures ensure great fit and comfort. Designed to fit and stay put.
Professional design for Snow, Dirt and Street
Level 2 Rated protection
Rugged Cordura nylon casing that keeps all padding in its proper place
Sweet leopard print graphics
Sizing: Because the manufacturer supplies no specific sizing information, the following guidelines should be used when determining fit.

Pad Length

Small/Medium - 9 inches
Large/X-Large - 10 inches

Top and Bottom Strap Lengths

Small/Medium - 11 inches to 14 inches
Large/X-Large - 13 inches to 16 inches
Comments: These pads did not fit me well at all. Some players absolutely love them, but personally, I am a tiny gal (5' and about 150lbs), these just slid right off of me with any amount of pressure. They also cover a huge amount of your arm. from about mid-forearm to mid-bicep. If you bruise easily on your arms or are a larger skater, these will likely be a good fit for you!
From: Anna in Beaverton, OR
Other Items to Consider