Rollerblade RB100 Urban Inline Skates 2013

Was: $340.00

CLEARANCE: $249.96

Free Shipping!

Lowest Price Guarantee
view large
360 View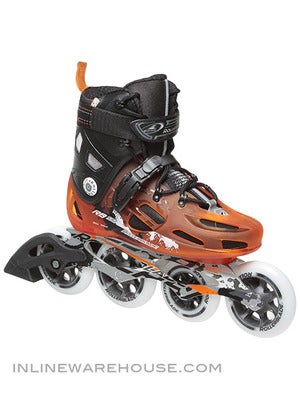 Rollerblades RB100 Urban inline skates are designed for control and maneuverability that an urban environment demands. Rollerblades RB100 urban skates come with considerably larger wheels (3x100,1x90) than what is found on traditional urban skates. This makes the RB100 the speed demon of the bunch, but still manages to provide good control even at high speeds with use of a molded plastic shell with comfortable and flexible cuffs. The Lo-Balance setup uses a 90mm wheel in the second wheel position, then three 100mm wheels. This keeps the deck height low to increase control and stability.
Model Year: Introduced in 2012. Re-released in 2013.
Model Number: 07205800956
Type: Urban Inline Skates
Level: Strong Intermediate through Advanced Level Skaters
Sizing Guidelines: The RB100 model tends to run about 1/2 size small. IW recommends ordering 1/2 size larger than your shoe size.
Upper / Shell:

Vented Molded Shell
Flexible Lightweight Cuffs
165mm Mounting

Liners:

Specialized 5 Star Fit Liners
Shock Absorbing Heel

Closures:

Velcro Strap on Cuff
45 Degree Buckle
Standard Lacing

Frames:

Lo Balance Aluminum Frames
310mm / Roughly 12.2"
Laterally Adjustable
3x100mm / 1x90mm

Wheels and Bearings:

Rollerblade 84A Wheels
Rollerblade SG9 Sealed Bearings

Brake:

Brake in Box with Axle Included
Comments: ok, first of all if you are too lazy to read it all. these things are INSANE GOOD! ok, now the full text:
First of all, the reason i bought this skate is mainly for transportation. just moved to Kyoto, and Buses here in japan are insanely expensive. I can't ride bicycles because of a knee injury. Aspalt in Japan is very smooth in the most part, but there`s a lot of not that good asphalt. so i thought the big wheels were a good point and the plastic boots would give me good ankle suport to perform like a real urban skate. and that is totally true, these skates are definetly worth the Urban skates title even with the 100m wheels.

ok, now for the cons: the 100mm wheels get in the way all the time, for me a former aggressive skater, it's very dificult not to trip once or twice every day in the extended length of the frame. maybe the twister would be better. the brakes that come with them just sucks, I don't usually use brakes, but i put this one just to test it out and man they are lame. they are just too far from the heel and you cant properly use them. took them out in a matter of 20 minutes with them.

other thoughts: love the color ♥.
rollerblade should definitely use some kind of speed lacing.
u cant pull out this liner.
u can change the frame position laterally, so it can match your skating style (still working in finding the perfect setup for me)

conclusion: if you want a really fast skate for parks or for urban transportation, these will be a good choice. really confortable and smooth. you can pass trough bad asphalt easily.
From: Daniel, Kyoto - Japan

Comments: These things are fast. Fast fast fast. I love it. They are my first pair of legitimate non-child roller blades (I'm 18, not 10 anymore). I couldn't be happier. The ankle gets a bit less support than I original thought was needed, but now I see how much more agile I can skate with more flexibility in the ankle. They fit perfectly for the usual size. My feet hurt after wearing them but I'm assuming that's because they aren't used to skating yet. I ride these to work and just for some good times when I wanna go fast. I will soon by trying some more urban type adventures in them, doing some jumps and working on pure efficiency. A friend of mine called them 'the longboard of rollerblades" after I described their designed purpose. Except they are significantly more agile than a longboard.
From: Kyle, CO
Other Items to Consider
Rollerblade Performance Skates - Intermediate to Advanced