Rollerblade Fusion X3 Inline Skates

Was: $225.00

SALE: $149.97

Free Shipping!

Lowest Price Guarantee
view large
360 View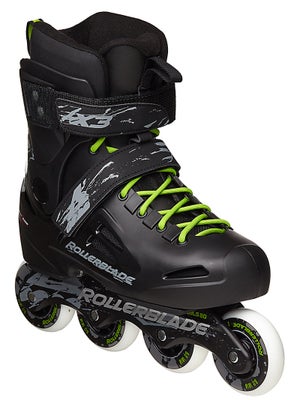 The Rollerblade Fusion X3 Urban Inline Skates are rugged but comfortable. Updated with new graphics, the Fusion X3 blends the benefits of a molded shell with the comfort of a soft shell. Designed to withstand the demands of city skating by maximizing performance, stability and control without being too heavy. Rollerblades Fusion X3 has venting in the shell, shock absorbing in the heel, and UFS frame mounting to transform into grind-worthy aggressive skate in seconds.
Compatible with any UFS aggressive frame and Rollerblade's Solo Soul Plates to skate aggressive.
Type: Urban ; Convertible to Aggressive
Skill Level: All Levels
Heritage: Twister
Fit Guidelines: Some break-in may be required. Should feel very snug out of box, and then form fit after break-in.
Sizing Guidelines: Sized using Unisex/Men's sizing. IW recommends men order based on shoe size.
Click HERE to see replaceable parts for this skate. NOTE: Parts subject to availability.
Model Year: 2015
Model Number: 07023000T83
Boots/Shell:

Urban Molded Shell for Stability & Response
Vented
Replaceable Soulplates
UFS Mounting

Closures:

45º Velcro Strap
Velcro Cuff Strap
Laces

Liners:

Specialize 5 Star Fit Liners
Memory Foam Padding for Custom Fit
Easy Entry ; Breathable
V-Cut in Rear
PU Foam Shock Absorber

Frames:

Composite 260mm UFS Frames

Max Wheels Size 80mm
UFS Frame Mount

Wheels and Bearings:

Rollerblade Urban 80mm 80A Wheels
Rollerblade SG7 Bearings

Brake:

Unattached in Box with Axle
Extra Axle Included for Removal
Comments: I purchased these blades for fitness purposes, not aggressive, at the beginning of 2013. I had not bladed since the 90's, and was unsure as to whether or not I would be blading a year later. Going on year two, these blades have performed admirably. With fitness in mind, the outer shell and UFS-style frame are both ABS plastic, allowing the entire setup to flex. This noticeably reduces the impact and (high-frequency) vibration on rough surfaces. Although I do not use these blades for grinding, the soul plates have reduced the damage done to areas higher up on the boot, like the widest part of the toe box, during a fall. A more personal benefit that I have found with this aggressive boot is the flat soul of the boot. The flat soul doesn't put you in a sprinting position, like a pair of hi-lo's or running shoes, helping to keep your center of gravity more directly under your foot instead of forcing you forward and down. The flat soul also increases the overall maneuverability and control of the blade. All things considered, this is still an aggressive boot, with an UFS frame. If you are looking for an entry-level boot that is solid, truly solid, then this blade will work until you find your style. If you are considering experimenting with different fitness-style frames, a pair of blades with a 165/195mm frame mounting system may be more appropriate.
From: Andrew, Los Angeles, CA
Comments: I had my pair from IW for over a year and have loved them dearly. I use them for transportation as well as to just have a good ride. The boot is well made and once broken in very comfortable, the wheels have lasted all year out of the box and the barrings are fast and smooth just the way a good ride should be. Great skates
From: Rashaud
Comments: Before I ordered this skate I was looking to replace my Rollerblade Lightning TRS skates -- which I bought back in the 1990's (yes the boot and liner lasted into 2012). One sad day the sole of my left TRS boot began to tear off. Looking at different skates, this skate seemed to be the closest to my TRSes. Well, I love these skates! They have tough, strong support just like the TRS. It took a while for my feet to adjust to the new boot and inline. I needed to leave the laces a little loose and pull the over-the-arch strap firm but not tight. The ankle strap I pull tight. The TRS boot I had was a 9.5 and fit great, even recently. Since then my foot size has increased to 10/10.5 in other footwear. I ordered a size 10 Fusion X3. The length is fine but the width is more narrow compared to my old TRS boots. This may be an issue if you take wide sizes. The adjustment to laces and straps that I mentioned helped me out. Again this is a great, durable, boot and the performance/manufacture is top-notch. I highly recommend this skate. The bearings are the exact same size (form factor) as ABEC-7 and seem to perform on that level. There are aluminum bearing spacers, and the wheels are a nice hardness out of the box for fitness skating on paved surfaces.
From: Adam
Comments:
The skates (RB Fusion X3) showed up right on time and fit well. Everything
was just as described and IW made purchasing new skates painless! The Fusion
X3 are a bit bulky but seem to be super sturdy. But really...I mean if Greg
Mirzoyan is wearing them, then that right there should tell you
something...they're a good urban skate! Check em' out.
From: Jeff in Ohio
Other Items to Consider