Revision Vanquish Roller Hockey Skates Jr 2.5-4

Was: $199.99

Now: $149.97

You Save: $50.02

Free Shipping!
view large
360 View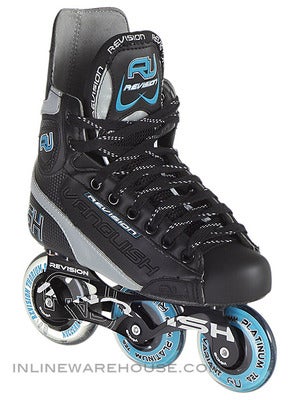 The Revision Vanquish skate brings an innovative frame to the game for the junior player. The Vanquish skate is mounted with a lightweight, aluminum frame which fits a 90mm wheel!!! The larger wheel set-up, (2) 80mm wheels and (1) 90mm wheel, allows the Vanquish skate to have more stopping power, higher top-end speed and is more energy efficient. The collection of the large wheels provide an oversized "footprint" when these wheels flex in turns and stopping. And when rolling, larger wheels just cover more ground per roll.
Quarter package - PU Leather
Eyelet reinforcement - PE with Nano-Woven inner
Heel support - PVC with Nano-Woven Reinforcement
AnkleLock™ EVA foam pads - Anatomical L-shaped pads provide a deep, secure heel pocket to prevent heel slip
Latex-Foam™ comfort pads - Foam "pockets" within the L-shaped pads to help eliminate pressure points on the ankle bone (The dark grey inserts in the heel pocket image)
Soft Microfiber liner - Soft to the touch and moisture wicking
Perforated footbed - Provides moisture control
Pro-felt 9mm tongue with ShotGuard™
Reinforced side toe guards - Increases durability in a high wear area of the boot
Carbon Fiber outsole:

Provides a stiff responsive feel
Less flex in the outsole means more of the player's energy is being transferred into wheels allowing for maximum speed and more control

Revision's Aluminum frame:

3-Wheel set-up for sizes 2.5-4
The frame uses 80mm wheels in the front (2) positions and (1) 90mm wheel in the back
The is innovative wheel set-up delivers:

A large "footprint" or contact area improving gripping power for improved pivoting and stopping
Higher top-end speed - The bigger the wheels, faster you can go. It's that simple.
Energy efficient - Larger wheels cover more ground in a roll

Constructed of 6000 Aluminum
Durable Extruded frame construction
Single axle design

Revision Variant Wheels:

608 hub design
80mm Revision Variant Platinum (72A) wheel for maximum grip
90mm Revision Thorium (72A) wheel for top end speed

Revision ABEC 7 608 bearings
Ideal for rec-level to advanced level of play
Width - D (feels like a D+)
Fit - Snug heel pocket with a generous forefoot
Sizing Guidelines - Typically your Revision skate size will be 1 size smaller than your regular shoe size
No feedback at this time.
Revision Roller Hockey Skates Junior

Revision Vanquish Roller Hockey Skates Jr 4.5-6

The Revision Vanquish skate brings an innovative frame to the game. The Vanquish skate is mounted with a lightweight aluminum frame which fits a 90mm wheel!!! The larger wheel set-up, (3) 72mm wheels and (1) 90mm wheel, allows the Vanquish skate to have more stopping power, higher top-end speed and is more energy efficient.


Revision Vanquish Roller Hockey Skates Jr 2.5-4

The Revision innovative frame technology is available in a 3-wheel design to fit on smaller sized skates. Now the junior player can experience higher top end speeds and increased stopping power. The 3-wheel design comes on sizes 2.5-4 and features 80mm and 90mm wheels.

Sizes Available: 3.0, 4.0