Renfrew White Hockey Stick Tape

MSRP: $3.50

PRICE: $1.99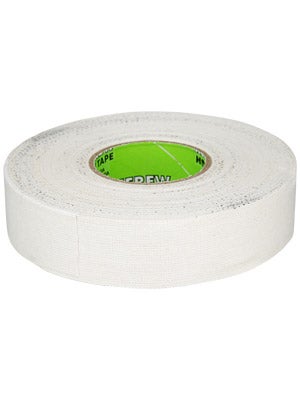 Special Price on White tape: Buy 6 for only $10.98!!! Or save even more when you buy a case of 81 for only $134.46!!!
Cloth stick and blade tape
1 roll = 1 in x 30 yards
(24mm x 27m)
Renfrew's PRO GRADE™ tape
Thicker cloth tape
Increase vibration absorption
Enhances puck handling
Protects your stick blade
Renfrew's PRO GRADE™ tape is a thick woven cotton cloth tape that has a more consistent coating of adhesive creating a moisture barrier between the ice and stick, resulting in better adhesion and a longer lasting product.
IW offers the best prices on Renfrew stick tape!
Other sites offer similar pricing, but the roll size is smaller!
Comments: Good, clean white hockey tape that I expected when I bought it.
From: Adam, Columbia, MO
Comments: Great price. A must-have as far as spare parts for any hockey bag. Every-game use for most of us, & you really cannot beat that price.
From: Chris, Surprise, AZ
Comments: Pretty thin. Wears out quickly. Prefer Howie's.
From: Ryan, NC
Comments: This is the best tape I have ever used! With the wax I use, I can get about 3 uses before I have to re-tape it. I love this tape and couldn't imagine using any other.
From: Chris, CA
Comments: Great price. A must-have as far as spare parts for any hockey bag. Every-game use for most of us, & you really cannot beat that price.
From: Chris, AZ
Other Items to Consider
Similar Items
Renfrew Hockey Stick Tapes