Reebok 22K Ice Hockey Skates Sr

Was: $79.99

CLEARANCE: $54.96

Free Shipping!

Lowest Price Guarantee
view large
360 View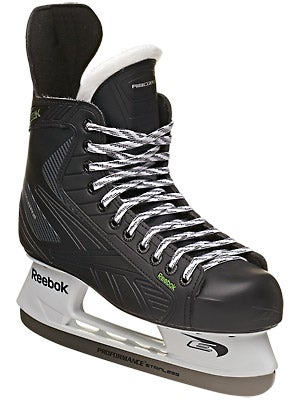 The Reebok 22K Ice Hockey Skates are the entry level model in the Reebok RibCor Line. The 22K Skates utilize a Sublimated Nylon Quarter Package with an Injected TPR Outsole, giving the new-to-hockey or occasional player a solid balance between comfort and support.
Model Number:

SK22K

Heritage: 5K / 2K
Level of Play Guideline: Recreational
Fit Guidelines: General fit aspects of the Reebok boot are low-medium volume; narrow heel pocket, narrow across top of foot, forefoot and toe box.
Sizing Guidelines: Reebok skates generally fit 1 1/2 sizes down from your regular shoe size
Quarter Package:

Sublimated Nylon

ideal for recreational or beginner players, offering a good balance of support and comfort
Non-woven reinforcement fibers for increased stability

Liner:
Ankle Padding:

Thick, anatomical comfort foam

Tongue Construction:

5mm White Felt with Foam Reinforcement

Footbed:
Outsole:

Injected TPR

Stable yet forgiving for the new-to-hockey players

Blade Holder and Runner:

E-Pro Holder with Pro-Formance Stainless Steel Runners

Weight of a Size 9D skate: 825 grams
Other Items to Consider
Reebok Ice Hockey Skates Senior
Tapered Fit

Reebok RibCor Pump Ice Hockey Skates Sr

The Reebok RibCor Pump™ Ice Hockey Skates are the flagship model in the RibCor Line. Reebok showcased their all-new RibCor Pro Quarter Package that offers first class agility and mobility. The lowers consist of the SpeedBlade 4.0 Holder with SB Black Runners that offer one of the most aggressive turning radius' on the market.


Reebok 28K Pump Ice Hockey Skates Sr

The Reebok 28K Pump Ice Hockey Skates offer solid value at a reasonable price. The 28K utilizes the RibCor Quarter Package with an EPP Foam Core for explosive agility. Reebok incorporated the new SpeedBlade 4.0 Holder that sits 4 mm taller in the front and rear post for an aggressive angle of attack.

Reebok 26K Pump Ice Hockey Skates Sr

The Reebok 26K Pump Ice Hockey Skates are the first skates in the RibCor Line to feature the RibCor Flex Quarter Package. The 26K Skates also come with the new SpeedBlade 4.0 Holders that sit 4mm higher in the front and rear post, allowing players to get over even further on their edges without bottoming out.

Sizes Available: 12.0


Reebok 24K Pump Ice Hockey Skates Sr

The Reebok 24K Pump Ice Hockey Skates are a great choice for the intermediate level player. These 24K Pump Skates come with the new SpeedBlade Pro Holder with SpeedBlade Stainless Steel Runners. They also feature the signature Reebok Pump that provides a personalized fit with an excellent heel lock.

Sizes Available: 10.0, 11.0, 11.5

Reebok 22K Ice Hockey Skates Sr

The Reebok 22K Ice Hockey Skates are the entry level model in the Reebok RibCor Line. The 22K Skates utilize a Sublimated Nylon Quarter Package with an Injected TPR Outsole, giving the new-to-hockey or occasional player a solid balance between comfort and support.

Sizes Available: 7.0, 10.0, 11.0