Reebok 20K Pump Ice Hockey Skates Sr

PRICE: $799.99

Free Shipping!
view large
360 View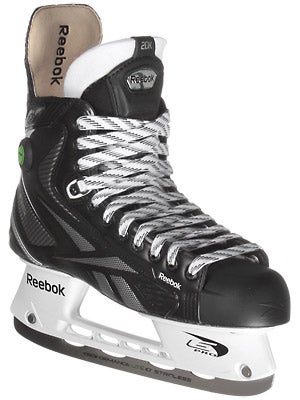 The Reebok 20K Pump Ice Hockey Skates are the premier ice hockey skates from Reebok.
The Reebok 20K skates are built with Pro line craftsmanship. The new Dynamic Support System solidifies the skate and controls flexion while working with the reinforced quarter package to maximize the energy transmission in every stride. Continuing to build on the Pump® franchise, the 20K skate provide the best out of the box fit, customization and performance.
Reebok has also redesigned The Pump® once again on this years skate. The pump is moved farther back on the ankle for a more direct pump of air into the air bladders built into the ankle foams. The pump face is better designed to be protected from hits.
The 20K skate also features a hybrid tongue. This is a combination of Pro Felt and EPE foam. The hybrid tongue offers a great pre-molded fit, along with a lace bite guard that allows for forward flex. A dual liner using a combination of Clarino and Nash leather is present, offering moisture wicking and a locked in feel.
Model Number: SK20KP
Heritage: New
Level of Player: Ideal for advanced to pro level of play
Fit Guidelines: General fit aspects of the Reebok boot are med-high volume, med-wide heel pocket, med-wide across top of foot and forefoot and toe box. Traditional stance.
Sizing Guidelines: Reebok skates generally fit 1 1/2 sizes down from your regular shoe size
Quarter Package:

Pro Armour IV: Lightweight quarter package with straegically reinforced embedded zones provides structural reinforced support and enhanced stability

Embed composite
EPP/Surlyn foams
Abrasion zone near forefoot designed for added durability and resistant to cuts and abrasion
Flexion zone - Harnesses flexion to enhance energy transfer
DSS Spinal zone - Supports Achilles tendon to control flexion & torsion

Liner:

Dual zone liner

Clarino liner - keeps the foot dry
Nash back liner - for durability and enhances heel lock

Heel Support:

ThePump™ technology - The ultimate in personalized pro performance and comfort
For 2012 - moved farther back on the ankle, out of the way
The Pump™ skate will provide:

A secure comfortable fit
Guarantees heel lock and ankle support
Enhances forward flex

SkateLock™ - Customize your support by tightening the top 3 eyelets independently of the forefoot

Ankle Padding:
Tongue Construction:

Hybrid felt foam - Pre-molded shape provides a comfortable fit while minimizing tongue twist

Footbed:

Griptonite heel - increases grip

Outsole: Lightweight carbon - Lightweight low profile perforated outsole minimizes mass, maximizes energy transfer, and delivers a responsive feel
Blade Holder and Runner:

Reebok E-Pro holder
Pro lite 10" scalloped runner

Weight of a size 9D skate: 884 grams
Made in: Canada
Comments: Great skate gets the job done! Defiantly worth it Get them!
From: James, Greenville, SC
Comments: I've been skating with these since September'12 and it has served me well. One thing I notice about Reebok is that they seemed to did a better job in designing the anatomy of the boots so that it will fit a wider range of foot shape. The 20K's design is even better now with the pumps moved slightly backwards, ensuring a pain-free heel-lock. The only thing I didn't like about these skates is that they are not stiff enough on the upper part of the boots (I'm coming from an X7.0) but I think this is what most general public wanted. Don't get me wrong, the 20K's support is still awesome and the tongue is simply amazing.
From: Michael
Comments: I bought these , and while they seem like a great skate , my only concern is that the boot just doesn't feel stiff enough. This may be because of two reasons. First that I am coming from Vapor X7.0 , and also because od the pump feature. I found the CCM U + Crazy Light to be a better skate over these. Just my opinion. I have friends that love the Reebok pump skates.
From: Jason, FL
Similar Items
Reebok Ice Hockey Skates Senior
The Reebok 20K Pump Ice Hockey skates are the premier ice hockey skates from Reebok. The 20K improves on the 11K with increased carbon for durability and power transfer along with an enhanced fit.
The Reebok 18K Ice Hockey Skates are a great, advanced to pro level pair of skates that replaces the previous years 11K skates.
The Reebok 16K Pump Ice Hockey Skates offer a great value with advanced performance. The 16K skate has some of the same features as the 18K but made with slightly different materials.

The Reebok 14K Pump Ice Hockey Skates offer a great level of performance for intermediate to advanced level of play at a great price. The 14K has many of the same specs as the 16K but with a few changes.
The Reebok White K Pump Ice Hockey Skate is a unique skate to Reebok's newest K line up. The White K comes with a white trimmed boot, the white Reebok E-Pro holder and the white felt on the tongue which gives the skate a custom look.

The Reebok 12K Pump Ice Hockey Skate offers good performance at the intermediate to advanced level of play. The 12K offers many of the same features as the 14K such as the Max Armour V quarter package and the re-designed pump.
The Reebok 9K Pump Ice Hockey Skate offers great performance for recreational to intermediate level of play at a very good value. The 9K skates have some give and wont require a ton of time to break them in making it perfect for players developing their skill or playing recreationally.

The Reebok 5K Ice Hockey Skates are perfect for players that are just jumping on the ice or for lighter recreational use. The TPU quarter package provides support with enough give to make them more forgiving for players developing their skills.