Reebok 16K Pump Ice Hockey Skates Sr

PRICE: $399.99

Free Shipping!

Lowest Price Guarantee
view large
360 View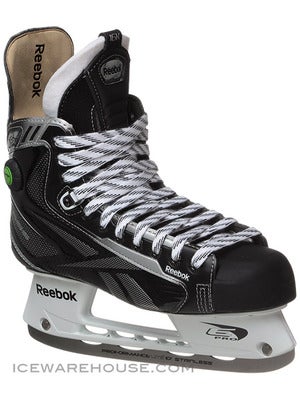 The Reebok 16K Pump Ice Hockey Skates offer a great value with advanced performance. The 16K skate has some of the same features as the 18K but made with slightly different materials.
Reebok has given the 16k the Max Armour™ V quarter panel with titanium reinforced composite embedded zones that provides optimum light weight structure, stability, durability and abrasion resistants.
Reebok has redesigned the pump for this years line up. They have moved The Pump™ slightly back towards the Achilles tendon to get better air flow into the bladder's and keeping it out of harms way. Reebok also did give it a sleeker look as the actual pump and release does not stick out as much, also giving The Pump™ better protection around it.
The 16K skate features a 7mm felt & EVA foam tongue that provides an excellent fit and great comfort. The lace bite guard is segmented which will allows great forward flex. Reebok also gave the 16K skates a dual liner. The combination of Duratex grip and moisture wicking Duratex enhances durability with increased heel lock.
Model Number: SK16KP
Heritage: 8K Pump
Level of Player: Ideal for advanced to pro level of play
Fit Guidelines: General fit aspects of the Reebok boot are med-high volume, med-wide heel pocket, med-wide across top of foot and forefoot and toe box. Traditional stance.
Sizing Guidelines: Reebok skates generally fit 1 1/2 sizes down from your regular shoe size
Quarter Package:

Max Armour V: Lightweight quarter package with straegically reinforced embedded zones provides optimum lightweight structure, offering stability and durability

Titanium reinforced composite embedded zones
Abrasion zone near forefoot designed for added durability and resistant to cuts and abrasion
Flexion zone - Harnesses flexion to enhance energy transfer
Spinal zone - Supports Achilles tendon to control flexion & torsion

Liner:

Duratex liner offers great moisture wicking properties
Duratex† Grip backing to enhance heel lock

Heel Support:

ThePump™ technology - The ultimate in personalized pro performance and comfort
The Pump™ skate will provide:

A secure comfortable fit
Guarantees heel lock and ankle support
Enhances forward flex

SkateLock™ - Customize your support by tightening the top 3 eyelets independently of the forefoot

Ankle Padding:

Pro Molded anatomical ankle support

Tongue Construction:

White felt backing and foam front with saddle lace-bite guard

Footbed:
Outsole:

Vented lightweight low profile carbon/glass composite outsole increases torsional rigidity and maximizes energy transfer

Blade Holder and Runner:

Reebok E-Pro holder
Proformance lite 10" scalloped runner

Weight of a Size 9D skate: 935 grams
Made in: Thailand
Comments: Well its been about 6-8 months of having these skates, I play in an adult hockey league and pick up games about 2-3 times a week. I am only about 170lbs and when I first got these skates they were amazing, great fit, great turning etc. But now the runner's and steel are bent and cracked, the sole of the boot is cracked, and the tendon guard is cracking where it connects to the boot so now its way to flexible. Around the top of the boot just above the ankles the fabric is ripped exposing some sort of hard plastic material which now cuts my ankles regularly. Several eyelets have popped or been bent shut and I have to bend them open so I can tie my skates up. The pump is about the only thing that seems to be holding up as of right now. Oh and I almost forgot the graphic decals that are the reebok logo on the inside and outside of the arch of the skates have started to peel off, doesn't really matter unless you care about looks, but still a bit disconcerting. So all in all if y ou don't mind buying a new pair of skates every year or maybe less than these skates will be amazing for the first few months, but after that expect ankle fatigue and mediocrity out of your "high performance skates." P.S. this is the same Pat that commented previously, funny how things change.
From: Pat, Ohio
Comments: Wow, after trying a couple pairs of Nexus, Supremes, and CCM U+CL skate I finally found a skate wide enough and supremely comfortable like the 16k. Best fit I've ever had out of the box at 7EE and after baking you have a skate that is perfectly formed to your foot. The heel lock was perfect and I had no pain at all on the first skate (no pressure points or soreness). The forefoot and toe area were plenty wide for my duck feet. The liner molds firmly and the pump is really not necessary after a good packing. But can be used for subtle differences in ankle size. Definitely designed for skaters who like a more traditional fit, and they aren't the lightest skates on the market, but it's hardly noticed on the ice. If you have a wider foot and are having some trouble with the other brands, I would highly recommend picking these up.
From: Andrew, Burlington, VT
Comments: These skates are amazing! Maybe it's just because I previously used bauer flexlite 2.0s or the fact that I was skating a size 10 when I should have been a size 8.5, but still my overall skating has improved a ton since I got these skates. They fit perfectly after you get them baked with no break in time. The pump and lace locks are great features too. Buying a pair of these skates is a decision you won't regret.
From: Matt, Indiana
Comments: These skates are amazing, coming from the vapor line to this is like honda civic to a mercedes. So much more comfort no break in time (had skates baked) and the runners are slightly taller then tuuk holders allowing a sharper turning radius for my style of play. Deffinitely worth the money. Unless something drastically changes in hockey skates I will remain an RBK guy forever.
From: Pat, Ohio
Comments:Well I have only skated on them once since purchasing the Reebok 16K skates...but they were fantastic. I had to tighten them after about 4 minutes of skating around but once they were laced up nice and tight, I felt right at home. They were extremely comfortable and had great forward flex that would snap back in place giving your stride some extra power. Can't wait to get on the ice again. Super comfortable skates.
From: Mark, NY
Other Items to Consider
Reebok Ice Hockey Skates Senior
The Reebok 20K Pump Ice Hockey skates are the premier ice hockey skates from Reebok. The 20K improves on the 11K with increased carbon for durability and power transfer along with an enhanced fit.


Reebok 20K White Pump Ice Hockey Skates Sr

The Reebok 20K White Pump Ice Hockey Skates are the White Edition of the top of the line skate from the Reebok line.
The Reebok 18K Ice Hockey Skates are a great, advanced to pro level pair of skates that replaces the previous years 11K skates.


Reebok 17K Pump Ice Hockey Skates Sr

The Reebok 17k Pump Ice Hockey Skates are a unique mixture of the 16k skate features with the pro-level quarter package of the 20k skate.
The Reebok 16K Pump Ice Hockey Skates offer a great value with advanced performance. The 16K skate has some of the same features as the 18K but made with slightly different materials.

The Reebok 14K Pump Ice Hockey Skates offer a great level of performance for intermediate to advanced level of play at a great price. The 14K has many of the same specs as the 16K but with a few changes.
The Reebok White K Pump Ice Hockey Skate is a unique skate to Reebok's newest K line up. The White K comes with a white trimmed boot, the white Reebok E-Pro holder and the white felt on the tongue which gives the skate a custom look.

The Reebok 12K Pump Ice Hockey Skate offers good performance at the intermediate to advanced level of play. The 12K offers many of the same features as the 14K such as the Max Armour V quarter package and the re-designed pump.
The Reebok 9K Pump Ice Hockey Skate offers great performance for recreational to intermediate level of play at a very good value. The 9K skates have some give and wont require a ton of time to break them in making it perfect for players developing their skill or playing recreationally.


Reebok 4K Ice Hockey Skates Sr

The Reebok 4k Ice Hockey Skate is a great choice for a beginner who is looking for a quality starter skate. This 4k utilizes a solid Tech Mesh quarter package that provides good support for the ankles and is a durable material.