PROPUCK Roller Hockey Pucks

PRICE: $6.97

Lowest Price Guarantee
view large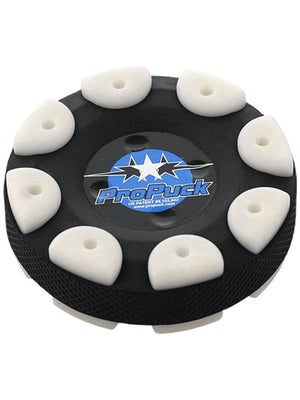 Special Bulk Price: Buy 5 or more pucks and the price drops to $6.49 each! Quantity discounts only apply to orders consisting of the same color.
Vulcanized rubber body and large, flat glide pegs, keep the PROPUCK roller hockey puck flat and stable on surfaces where traditional plastic pucks fail. Available in 6 colors. Ideal for outdoor play!
Vulcanized rubber body dampens vibration keeping the puck flat
Vulcanized rubber body provides superior durability
Slightly heavier than the traditional plastic puck for enhanced stick/puck feel
Textured edge gives you increased control for shooting and passing
One-piece insert molded glide pegs
360 degrees of continuous glide peg contact-Pegs placed right at the edge of the puck
Peg placement allows the puck to settle and slide versus rolling on the edge
Ideal for outdoor play - May also be used indoor
Weight-4.0 oz.
Vulcanized rubber body and one-piece insert molded glide pegs, give PROPUCK unmatched durability and longevity, in any weather.
Comments: The newer wave of these pucks tend to loose pegs (or "teeth" as I call them) very quickly. Whereas before the pucks were very robust and would last quite a long time, now they will break pegs often in the first ten minutes of play. I've been insisting with my friends that we switch back to the traditional Sonic roller pucks, but they prefer the heavier weight of the Propuck. I see their point, but I can't recommend use of a product that fails so quickly and routinely.
From: Ben, Ventura, CA
Comments: These are starting to be more cheaply made, resulting in premature breakdown. This is not due to cold weather I broke three pucks in one day in the summer. The rollers are weaker and just break of.
From: Mike, Brooklyn, NY
Comments: Several people have had an issue of the gliders coming off, and I believe that it is a cold weather problem, and that's it. I have three of these pucks, and all three lasted through last seasons practices (even some games) and I only lost one glider on one puck the entire time. I am still using the original three, and I've had them for almost a year now. My league uses these as the official puck, and I have never seen one break, and have only seen a glider break off a few times before, and typically because of a slap against the post.
They have a great weight to them, and slide well on smooth concrete. I've heard they can slide a little too well on sport court, but we play on smooth "skate park" concrete, and this puck feels like it was meant to play on that type of surface. It's perfect. The only pucks I ever need to buy, and so far I've only had to buy them once.
From: Justin, TN

Comments: Before I purchased two of this puck from IW, I checked the review on IW and from other web sites, it looks it has some defect in design. However, I have practice with this puck for many times with wrist shots, slap shoots, and snap shots to a metal-framed goal, the pucks are still intact and none of the gliding pieces ever gets loose or drops out.I am very happy with this puck and actually want to see if this puck can be made in 8 oz or 10.5 oz for muscle build up and power training purposes.
From: Jen, VA

Comments: Similar problem to everyone else...puck slides great, feels great, but then the pegs fall off after 5 minutes.
From: Jordan, Beverly, MA
Comments: DO NOT BUY!! Gliders came off within 3 minutes of warm up usage. Sent the company a request for a replacement and am still waiting for their response.
From: Gabriel, Pittsburgh, PA
Comments: The only puck you need to play outdoors. Buy it.
From: Dominic, PA
Comments: Puck stays flat on outdoor rinks, plays great. Wish it was built tougher, after half hour of shooting/passing, the pegs started breaking off. Went through 2 batches of pucks with same response
From: Rich, San Jose, CA
Comments: this puck is awesome honestly the only puck I buy anymore. As far as roller goes I always had problems with pucks not sliding right or rolling but this puck fixed all that!!!
From: Devin, Wellsville, PA
Comments: Only puck that works on a semi smooth outdoor surface. Wish they made replacement pegs.
From: Mike
Comments: Hey everyone, just wanted to drop you a note to say that I appreciate you getting my order to me so fast, these pucks kick ass, they are really smooth on all surfaces, weighted well as tough as hell, keep up the good work. Have a great day and enjoy your evening ;) Regards
From: Geo
Comments: I just started playing hockey again with friends after a 15 year hiatus. We found a outdoor rink with painted blacktop surface to have weekly games. Every friend of mine swore we had to use the ball because pucks dont work well on the surface. While I dont have much problem using the standard RHL puck most guys complained on how they couldnt handle it and how much it jumped. I tried every puck on the market and came across the propuck. It blew me away and every other guy I played with. Its fairly heavy(4 oz) runs smooth and results in good strong passes and shots. Every guy in our house league is sold on it. Best puck on the market for street hockey. Only forseeable problem about the puck is that the pegs are not replaceable so you will need to buy a new one every time it wears down. No problem dropping $7 on this after all the $6-$10 duds that I tried.
From:
Comments: Best outdoor puck I've ever tried!
From: Oslo
Comments: We play with these pucks at the Rose Bowl in Pasadena, CA and at a
local elementary school parking. This puck slides great on smooth surfaces,
but tends to bounce a bit when the surface is rough or if the puck isnt
broken in. Overall, this is your best choice for an outdoor roller hockey
game.
From: Brian, Pasadena, CA USA
Comments:best outdoor roller puck out there.(period)
From: JD
Comments:Pretty much every outdoor roller hockey league and pickup game in New York City uses this puck. It slides great and the overall bouncing is minimal. However, ABS manufacturing seems to be making them cheaper and cheaper. One hard shot against boards or a wall or fence causes the plastic glide pegs to shatter. It's not an easy problem to solve but it does become expensive when so many break.
From: John
Comments:This puck slides very well, however after taking a few shots, the white plastic dimples broke off. I bought two of these and used them on a smooth court today. Both pucks had at least two dimples missing after only 2 hours of playing.
From: Tom
Comments:We use these for pick-up games on an outdoor rink. Prior to using this puck we played with the Franklin Hummer which is heavier (about comparable to an ice puck) and moves much slower than this puck. After making the switch, our games got increasingly faster. One complaint from players is that these pucks tend to bounce off of the the goalie and the boards easier and it takes a lot to get used to this characteristic.
From: Greg
Comments:Bought two recently -- one had lost a peg within 5 minutes, the other lost *all* but one peg within 5 minutes. Despite that, they still cost less, glide better and shoot better than any other game puck I've used. Will use until something better and more durable is available.
From: Matt
Comments:I have used almost every street/roller/inline hockey puck ever made - from the Turbo Puck, Shock Roller Hockey Puck, IDS, etc. - and none of those come close to matching this puck for performance, feel, and durability. The ProPuck is great for off ice games and practice. Works very well on nearly all inline/roller hockey rinks with sports flooring. And works extremely well on any outdoor surface - tennis court, concrete roller hockey rink, driveway, garage, schoolyard, etc. Watch out for the Ice Guy - a slightly heavier version of the ProPuck. Can they improve upon a nearly perfect roller hockey puck - lets wait and see.
From: Scott, New York
Comments:This puck is the best street hockey puck that we've played with. We play on tennis courts so it glides ultra smooth and handles great. At night the orange has been hard to see for the goalies because the lighting is not all that great and its hard to get the Yellows(please build more yellows!!!!!!!!!!) Overall though, we've tried pretty much all the pucks out there and this is the highest quality and best playing puck around. HIGHLY Recommended!
From: Brendan
Comments:No better puck out there! Perfect roller hockey puck for the ice hockey player! Feels great, heavier than the normal, cheap, plastic pucks. 1-piece vulcanized rubber makes it darn near impossible to shatter this puck. First time on the roller rink, hit a ringer at least a dozen times with it, not even a dent on the puck. Highly recommended!!!!
From: Justin, GA
Comments:used primarily on not so smooth street. Pros: handles better than any puck out there on asphalt, I've tried every other puck and I end up throwing them away. Cons: once the pegs wear out they begin to roll a lot more. I've also broken about 15 pucks with slap shots or hitting the post. The pegs seem to break on me a lot, although my neighbor has yet to break 1. Once the peg is out the weight distribution is off and the puck is useless unless used solely for target practice, no replacement pegs are available. Have & will continue to buy until they come out with something better
From: Ben, Rohnert Park, Ca
Comments:Where: used primarily on tennis courts. Pros: Very fast, pegs have lasted at least twice as long as smaller round pegged models. Cons: Rubber core makes for fast, sometimes odd bounces on rebounds Will purchase again.
From: Bob, CA
Other Items to Consider
Similar Items
Propuck Roller Hockey Pucks
Special Bulk Price: Buy 5 or more pucks and the price drops to $6.49 each!

Vulcanized rubber body and large, flat glide pegs, keep the PROPUCK roller hockey puck flat and stable on surfaces where traditional plastic pucks fail. Available in 6 colors. Ideal for outdoor play!

Colors: 5