Easton Stealth RS Ice Hockey Skates Sr

MSRP: $740.00

PRICE: $599.99

Free Shipping!
view large
360 View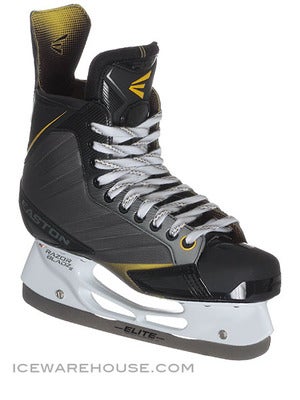 The Easton Stealth RS Ice Hockey Skate, like the RS stick, is built to perform! Easton's has designed the RS skate with the elite player in mind. The Stealth RS skate's design will offer explosive power and enhanced quickness and mobility.
Easton has increased the stiffness in the quarter panels (vs the EQ50) to allow the skate to have more acceleration. Combined with quarter panels that our 5mm lower, allows for greater mobility. Heat sensitive polyurethane (TPU) and rubbers (TPE) are fused together to create the lower profile quarter panels. The heat sensitive characteristic allows the panels to be moldable, which gives the skate a closer fit to your foot with less free space; creating a more natural and direct feel. For protection, Easton injected the popular EPP foam in the quarter panels. EPP foam is common on the NHL ice and provides a high level of protection at a fraction of the weight. The tongue is constructed of pre-formed felt and foam with an injected lace bite protector. The outsole is constructed of Texalium™, which is a fiberglass fabric that increases skate flex, and also has Easton's patented Dry Flow™ moisture drainage system. Easton used their Aggressive Razor Bladz II® holder to hold their scalloped stainless steel runner, optimizing tight turns and a high response feel.
The interior of the boot offers soft-top edges for added comfort during those long strides or hard cuts. The Easton RS skate is lined with Easton's popular Bio-Dri® moisture wicking material, so your skates will stay dry late in the 3rd period.
The Easton RS ice skate is a new breed of skates that are built for speed.
Model Number: A147151
Heritage: EQ50
Level of Player: Ideal for the advanced to pro level of player
Fit Guidelines: General fit aspects of the Easton boot are medium volume, medium heel pocket, medium across top of foot and forefoot and toe box. Slightly aggressive stance.
Sizing Guidelines: Easton RS skate generally fits 1 size down from your regular shoe size
Quarter Package:

Fused composite (EPP foam/TPU/TPE) side panels

Provide the best combination of heat moldability and responsiveness

Liner:

Hydrophobic Bio-Dry® liner

Soft-touch mesh synthetic
Combination non-moisture-absorbent foam and memory foam heel pocket and comfort edge

Heel Support:

Injected unit protects high wear zone

Ankle Padding:

Comfort form foam
Heat moldable

Tongue Construction:

Pre-formed felt and foam
Lined with an injected lace bite protector

Footbed:

Giro's SuperNatural Fit System™

Optimizes comfort
Enhances skating efficiency

Outsole:

Texalim™-Fiberglass fabric increasing skate flex
Dry Flow™ moisture drainage system

Blade Holder and Runner:


Aggressive Razor Bladz II® holder
Stainless Steel Runner

Weight of a Size 9D Skate: 884 grams
Comments: very very poor quality i just got a pair and there brutal also they have little support
From: Cole
Comments: I'd avoid Easton skates as they're not known for durability. Maybe these are different but my SE17s are only two years old and I've had to replace the steel 3 times, rivets twice and now all the stitching is coming apart.
From: ??
Similar Items
Easton Ice Hockey Skates Senior