CCM Tacks 4052 Ice Hockey Skates Sr 2014

Was: $329.99

SALE: $179.97

Free Shipping!

Lowest Price Guarantee
view large
360 View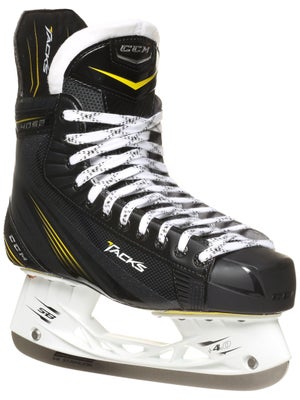 The CCM Tacks 4052 Ice Hockey Skates offer a ton of value for the intermediate level player who's looking for advanced performance. The thick, white felt tongue and Dual-Zone Liner gives the player a professional fit and feel. The upgraded AttackFrame™ Quarter Package and the heat moldable T4 Core provide solid power and increases longevity.
CCM uses their Vented Fiber Nylon Composite Outsole because it offers sound rigidity and helps to push moisture out of the bottom of the boot. The outsole attaches to the SpeedBlade 4.0 Holder and the SpeedBlade Stainless Steel Runners. The SpeedBlade Holder sits 4mm higher than the previous E-Pro Holder, allowing players to lean over further on their edges without bottoming out, making for an aggressive turning radius.
Model Number:

SKJ40

Heritage: New
Level of Play Guideline: Performance
Fit Guidelines: General fit aspects of the CCM Tacks boot are medium-high volume; medium volume in the ankle area, the top of foot, the forefoot and the toe box.
Sizing Guidelines: CCM Tacks skates generally fit 1 1/2 sizes down from your regular shoe size
Quarter Package:

AttackFrame™

Offers increased structural support for more explosiveness and speed

Formula T4 Core

Acts as the boot's backbone; providing more stiffness for better performance and increased longevity

Heat moldable

Liner:

Quick-Drying, Heavy Duty Microfiber with Clarino

Dual zone liner that efficiently wicks away moisture while maintaining a high level of comfort

Tongue Construction:


7mm Two-Piece White Felt with EVA Foam

Pro-spec thickness for impact and lace-bite protection
EVA Foams mold to the top of the foot during the baking process for an even better fit

Footbed:
Outsole:


Low-profile Injected Plastic

Blade Holder and Runner:

Speed Blade 4.0 Holders with SpeedBlade Stainless Steel Runners

The CCM Speed Blade Holder sits 4 mm higher than previous CCM holders, allowing for one of the most aggressive turning radius in the game
SpeedRibs utilize a triangular design that increases torsional resistance, which in turn helps get the most speed and power possible out of the holder

Weight of a Size 9D Skate:
Comments: Awesome skates! Felt great as soon as i put them on. No baking was required for me. They were lighter than my old bauer vapor skates. I love them so far and are holding up very well. Looking forward to skating with these for a while.
From: James, Tinley Park, IL
Comments: When I first got these skates, my feet hurt a little bit, but I think it's because I never got the chance to bake them. After a couple skates with them, the pain went away and I could feel a great difference in speed right away. I got so much faster and my skating form even changed with them. These skates are magic and they've really helped me with my season.
From: Lyusyen, San Diego, CA
Comments: I have had my skates for a year now and I am glad that the tacks are back. One bake and I was good to go. The skates are light, responsive and durable (I play twice a week). If they still have your size pick up a pair.
From: Jim, Seattle, WA
Comments: Have had these for about a month and skated on them 5 times. Baked them after the 2nd skate because my feet were hurting bad. I can only skate for 10-15 minutes at a time and I then I have to take them off, wait for the pain to subside then go back out for 10-15 minutes, and repeat. I am trying to keep breaking them in but I am at the point where I just don't think that these are for me. I am wearing size 9.5 EE. If the pain goes away I will write another/update this review if I can. If you have a somewhat wide foot I don't think that these skates are for you. I also have a very high arch, not sure maybe that is a contributing factor.
From: Jordan, Las Vegas, NV
Comments: Post-break in review..... I had to exchange these for an 8.5 size. Unfortunately my foot is a E width, but these skates are only offered in D and EE. Punching them out and more heat molding did nothing for the foot cramping.
From: Anonymous
Comments: Big fan of CCM, even with my RBZs when I saw these were back I picked them up. I immediately noticed a difference in the turn radius, light weight and response. The forward-profile is great in addition to the Attack Frame.I didn't experience any pinching. There was some discomfort because I took these out of the box into a game situation (with only 1 bake session), so don't tamper with your laces. Wear them as you'll play in them.I recommend 1-2 baking sessions to get the custom fit right as well as a hard practice session to get them fitted well.
Pros: - Lightweight and durable - Great blade design and turning radius - Noticeable response in forward/offence
Cons: - Needs time to get through the initial 'stretch' - Not as responsive when skating backwards (but still good)
Edit: After a full season in these, it took quite some time to get used to and fitted the way I like it. I also had to tinker with my lacing style a bit but I'm happy with these.If you have a wide foot, I recommend going to another brand or seeing a specialist. Don't go to a local "we have everything" shop. Go to a hockey-specialty store and have them fit skates just for you. These skates have a very unique fit. If you can get a size that's good for you, then you won't be dissapointed. But these aren't a universal fit for everyone.
From: Azim, Toronto, Canada
Comments: Currently running RBZ skates. I did my first skate today at my local rink. First impression are the following: heel lock keep feet locked in place but I had to loosen my skates to eliminate pinch. Feel very light and more explosive from stand still compared to my RBZ. Backwards skating was mire responsive and fast. It feels like I've gained an extra step. Also, fairly comfortable. Happy so far on first skate. Should get better after break in.
From: Chris R, San Jose, CA
Other Items to Consider
Similar Items
CCM Tacks Ice Hockey Skates 2015
Traditional Fit
The CCM Tacks Ice Hockey Skates are the premier skates in the Tacks Line and have the fastest 5 strides in hockey to date. CCM accomplished with the carbon fiber structure called the Carbon Twill AttackFrame™. It is designed with pro-level stiffness so it can store energy that directly returns into a player's stride. The core works with the AttackFrame™, providing the proper support and stability that all high-end hockey players need.

Sizes Available: 11.5, 12.0

The CCM Tacks 4052 Ice Hockey Skates offer a ton of value for the intermediate level player who's looking for advanced performance. The thick, white felt tongue and Dual-Zone Liner gives the player a professional fit and feel. The upgraded AttackFrame™ Quarter Package and the heat moldable T4 Core provide solid power and increases longevity.

Sizes Available: 6.0
The CCM Tacks 2052 Ice Hockey Skates are the entry level model in the Tacks Line, making them ideal for the casual or new-to-hockey player. The 2052 Tacks come with CCM's new SpeedBlade Pro Holder and SB Stainless Steel Runners. The Sublimated Nylon Quarter Package has a comfortable out of the box fit with ample support for recreational play.