CCM RBZ 70 Ice Hockey Skates Sr

Was: $199.99

SALE: $99.97

Free Shipping!

Lowest Price Guarantee
view large
360 View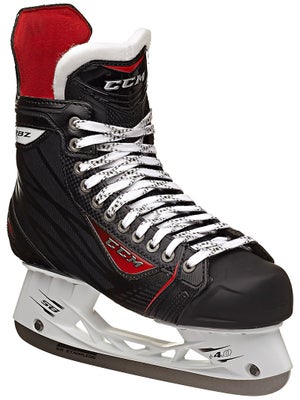 The CCM RBZ 70 Ice Hockey Skates are the first model in the RBZ ice skate line to utilize the all new SpeedBlade 4.0 Holder. These skates with the new holder are perfect for the intermediate level player who's looking to elevate their game and capitalize on one of the tightest turning radius' in the game.
The SpeedBlade 4.0 Holder is an outstanding feature at this price point because CCM heightened the holder 4 mm in the front and back post so that a player can lean even further into an aggressive turn without bottoming out. The RBZ 70 skate also uses a classic white felt tongue that includes lace-bite protection and foam reinforcement.
The Junior skate sizes range from 1.0 - 7.0 while the Senior sizes overlap 6.0 - 12.0, giving the option to younger players who require larger sizes to utilize a junior skate with junior-specific features such as the Easy Tie System.
Model Number: SK70
Heritage: New
Level of Play Guideline: Performance
Skate Fit Guidelines: High Volume / deep heel pocket - wide forefoot - high instep
Sizing Guidelines: CCM skates generally fit 2 full sizes down from your regular shoe size.

If you wore a 2012 or older CCM skate, you should choose a 1/2 size smaller 2013 CCM skate

(i.e. 2012 CCM CL 8.0 = 2013 CCM RBZ 7.5)

CCM RBZ skates fit about 1/4 size smaller than Reebok skates
Quarter Package:

Sublimated Tech Mesh

Provides more stiffness and durability

Liner:

Heavy Duty Microfiber

Very durable while remaining comfortable

Tongue Construction:


Two-piece white felt

Added lace-bite protection backed with foams

Footbed:

Standard CCM footbed for additional comfort

Outsole:


Low-profile injected plastic with exhaust vents

Blade Holder and Runner:

Speed Blade 4.0 Holder with SpeedBlade Stainless Steel Runner

Speed Blade Holder is 4 mm higher than previous CCM holders, allowing for one of the most aggressive turning radius in the game
SpeedRibs utilize a triangular design that increases torsional resistance which in turn helps get the most speed and power possible out of the holder

Weight of a Size 9D Skate:
Comments: Bought this pair for my son - never experienced any of the issues listed above. Skates were a great investment - good quality for the price - especially now at the cost IW is offering. If you are looking for an awesome skate for your player to grow out of, this is the skate. You will be more than happy with the feel and comfort -
From: Bill, Yarmouth, ME
Comments: Great bang for the buck, just started playing hockey again and wanted a good quality skate that wouldn't break the bank... very happy with this skates...
From: Sergio, USA
Comments: I got a pair of the RBZs after over 15 years away from the game and have loved them. Very comfortable and have held up well. Slight issue with a loose runner, but overall decent skate for the price.
From: Greg, Baltimore, MD
Comments: I bought after not skating for about 20 years to get back into inline hockey. First skate they were super comfortable. There was a spot in my left boot that gave me a little discomfort in my arch but that has subsided since. I am happy with these skate. Fairly limited break in period. I liked the look when I bought these as they were different from the plain black skates that are the base for most skates out there. So far I like them.
From: Kevin, Woodstock, GA
Comments: The skates are good for the price, but I've used them for a half season and they are already wearing down. The rivets are coming off and there is parts the runner and holder is coming off the boot. I would still recommend these for a younger or less serious player.
From: Nick, Vancouver, BC, Canada
Comments: I had the same issue as above. Both back rivets on each skate came loose within the first month. Luckily they were covered by warranty. I really liked the skates but I didn't want to roll the dice again so I paid a little more and went with the Bauer supreme one. 7. Hopefully they will last longer then a month. I am a bigger guy and probably could benefit from a stiffer boot. The staff at ice warehouse were great through the whole process. I play about 2-3 times a week and prior to the new rbz's I had old ccm classics which are entry level skates at best and never had a problem. Not quite sure how you triple the expense and get a cheaper constructed product. Oh well to Bauer I go.
From: Tim, Pekin, IL
Comments: loved these rbz's until the bottom rivet started coming out. got them fixed at a hockey shop once but it came loose again.now i see another one coming loose and also a seam coming apart. i've only used these for about a month and a half.until the problems came on i loved them. super comfy, and they got the part right about the tight turning radius. i'd love to recommend these but with all the problems iv'e run into i probably would'nt get the 70's again.
From: Tucker, Carson City, MI
Other Items to Consider
CCM RBZ Ice Hockey Skates
Traditional Fit
The CCM RBZ 70 Ice Hockey Skates are the first model in the RBZ ice skate line to utilize the all new SpeedBlade 4.0 Holder. These skates with the new holder are perfect for the intermediate level player who's looking to elevate their game and capitalize on one of the tightest turning radius' in the game.

Sizes Available: 10.0