Bauer Vapor XR4 Roller Hockey Skates Sr

PRICE: $249.99

Free Shipping!
view large
360 View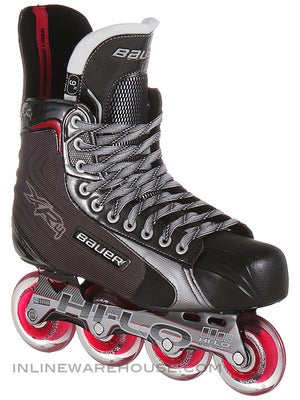 The Bauer Vapor XR4 offers some higher end features at a mid level price point. The XR 4 uses the same outsole and frame as the XR3, but comes with indoor Labeda wheels and faster ABEC 9 bearings. The quarter package used is a sublimated woven nylon, providing solid durability and increased response.
On the XR4 liner, Bauer incorporated a Hydrophobic microfiber material to decrease odor and keep your feet dry. The tongue on the XR 4 is a comfortable 2 piece felt with metatarsal guard. This guard prevents lace bite and helps cushion impacts. The XR4 provides a great value for an intermediate to advanced player.
Model Year: 2011
Model Number: 1038046
Heritage: Bauer Vapor RX25
Level of Player: Ideal for intermediate to advanced level of play
Fit Guidelines: General fit aspects of the Vapor boot are low-medium volume, medium ankle area, medium across top of foot and forefoot and medium toe box.
Sizing Guidelines: Bauer skates generally fit 1 1/2 sizes down from your regular shoe size
Quarter Package: Sublimated woven nylon with improved molded X-rib pattern

Thermoformable - Material will mold to the players foot for a precise fit
The new X-rib design (seen from looking at the back of the boot) offers maximum structural support throughout the entire boot for quicker acceleration and tighter turns. The aggressive pitched boot design allows for optimum forward flex.

Liner:
Heel Support:

Patented pro-integrated, anatomical heel cup

Tongue Construction:

Anatomical 2-piece felt with metatarsal pad

Footbed:
Outsole:
Frame: Hi-Lo™ Vanguard™ frame: 6000 Series Aluminum Detonator

The Vanguard™ frame uses 76mm(2) in the front and 80mm(2) in the rear
Vanguard explodes off the charts in performance!
Offers increased overall speed and decreased stopping distance
The perfect balance in wheel sizes - Maximizes results while still maintain a low, powerful center of gravity
6000 grade aluminum
Square Flush 2-Piece Silver 6mm Axles

Wheels: Labeda Millennium X-Soft 74A indoor wheels
Bearings:
Weight of One Size 9D skate: 1346 grams
Comments: These are SUPERB skates for a high school roller hockey player like myself! I've had them for about 6 months and they still work like brand new.
PROS:
-boot is incredibly durable and strong. I never feel shots to the feet anymore.
-wheels are perfect for indoor play, and I weigh ~150lbs.
-the bearings are smooth as glass (recommend lubing them every month or so with lube from IW and washing them every few months with Sonic Citrus bearing cleaner also from IW)
-laces are strong; no fraying or tearing or any visible wear so far
-very responsive skates; you can stop very fast and turn on a dime
only CON (and this is minor) is the padding inside the boot is minimal compared to most skates of the same level
I replaced the factory insoles with Superfeet insoles, so I can't comment on the insoles.
***If you can, go to a hockey pro shop and try these on to find the perfect size for you. Try to get the tightest fit you can handle that doesn't hurt your foot. As you break in the skate, the boot will start to mold to your foot for a wonderfully snug fit.
From: MC Roller Hawks, GA
Comments: Great skates, i loved them the first time i used them. i would reccomend these skates to anyone looking for a new pair o inline skates.
From: Anthony, Gold Coast, Australia
Comments: The skates are good light and come with some pretty decent wheels and bearings out of
the box. Playing on sport court I got about 12 weeks out of the wheels before they
started to crack and chunk up ( I am about 190lbs). The bearings are smooth and quick
as long as you maintance them properly. Overall this is a good skate for any rec league
and even for advance level of play.
From: Brian, CO
Comments: These are very, very similar to the RX25's. Great skate for you bauer vapor fans out there. Quick break-in period, I did bake mine before using though. My only two criticisms are that the skate is slightly heavy and that the tongue is very thin. The bearing and wheels are quality as well. For the price, these skates are well worth it. But, if you have a larger budget - go with the XR5 or XRpremiers.
From: Joe, Pittsburgh, PA
Comments: These skates ride so smooth it is sweet i recomend this skate for any intermidiet skater
From: Andrew
Comments: Just got my Bauer XR4's and love them already!!!! I did the heat mold as instructed in the user manual and they fit like a glove! They are so light and easily manueverable. Coming from Tour Thor LX5 skates, these Bauer's make skating so much easier and enjoyable! They are worth every penny you pay for them! Seriously consider buying these for someone who wants a great skate at not a steep price!
From: JON, PA
Comments: Let me first premise this review by saying that the last pair of skates I've bought were Bauer 3000 supremes with the Tuuk Shifter 2 frames. I loved those skates and wore them for the last 12 years through competitive travel leagues and adult beer leagues! (they don't make em like they used to)Unfortunately, I had to retire them recently. With that said, I couldn't warrant paying more than $300 for a pair of skates. I have to say at this price point, the XR4s are worth it. Easy break in, and played a full game and pretty much forgot they were on. Light as a feather, comfortable and really responsive when shifting weight. I would highly recommend these to any intermediate or advanced player on a budget.
From: Mardee, CA
Comments: Great skates! I have had them for about 2 years and they are
still in great shape. Very comfortable and easy to break in. the Wheels
are good at first but they wear down easily and lose grip. I would
definitely recommend these skates to a friend.
From: Sandy, Centennial, CO, USA

Similar Items
Bauer Roller Hockey Skates Senior

Bauer Vapor XR Premier Roller Hockey Skates Sr

The Bauer Vapor XR Premier Roller Hockey Skates are an advanced pair of skates that features technologies from both the APXR and XR5 skates. Like the XR5, the XR Premier features an ultra-light tech mesh quarter package with the molded X-Rib design providing lightweight enhanced structural support, while rolling on the Hi-Lo™ Vanguard™ Magnesium frames like the APXR.

The Bauer Vapor APXR Skates are a culmination of material and technological advancements, resulting in the lightest Bauer Roller Skate ever. The APXR showcases the same ALIVE and X-Rib boot construction as the APX ice skate. With a magnesium frame and Labeda Addiction wheels slapped to the bottom you have most advanced, performance driven inline skate from Bauer yet.
The Bauer Vapor XR5 offers top level features without the top end price tag. The quarter is an ultra-light tech mesh for durability and response. The outsole is a light and rigid fiber composite, making every stride quicker. An elite felt tongue and quick-dry hydrophobic grip liner keep you foot comfortable during play. The XR5 showcases Dynasty 3 wheels and Swiss LE bearings for pro-level speed.


Bauer Vapor XR4 Roller Hockey Skates Sr

The Bauer Vapor XR4 Skates offer some higher end features at a mid level price point. The XR 4 comes with indoor Labeda wheels and faster ABEC 9 bearings compared to the XR3. The quarter package used is a durable sublimated woven nylon. Bauer utilized a Hydrophobic microfiber liner and a 2-piece felt tongure to comfortably lock the foot in place.
The Bauer Vapor XR3 is a jump from the XR2, and showcases a Vanguard™ Detonator frame. The XR3 is the first skate in the Bauer line to offer a 1 piece frame. This provides the player with increased responsiveness. The XR3 comes complete with 76A indoor wheels and ABEC 7 bearings. A perfect skate for the intermediate roller player.

The Bauer Vapor XR2 is a solid price point model with a multi surface wheel setup. The XR2 utilizes the same outsole and frame as the XR1, but offers a 78A XR2 wheel and Abec 7 bearing. The footbed on the XR2 is a molded comfort EVA for some additional stability. The tongue featured on the XR2 is a 2-piece felt that comfortably wraps around the leg.



The Bauer Vapor XR1 is the entry model in Bauer's roller line for 2011-12. At this low price point the XR1 still provides a great value for the casual/entry player. The XR1 features sublimated woven mesh construction with an improved X-Rib design. Bauer has used the Vanguard™ Hi-Lo frame setup to offer an excellent combination of speed and control. The XR1 skates include the Bauer XR1 82A outdoor wheels.