Bauer Vapor X50R Roller Hockey Skates Sr

PRICE: $159.99

Free Shipping!

Lowest Price Guarantee
view large
360 View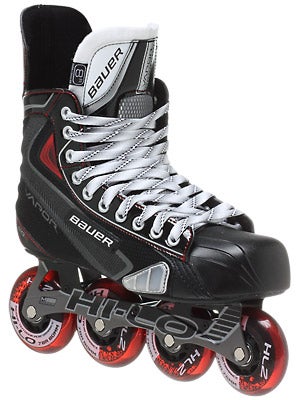 The Bauer Vapor X50R Roller Hockey Skate offers good performance and versatility. The X50R features the Hi-Lo™ Vanguard™ Violater Frame that holds Hi-Lo™ Multi-Surface wheels, allowing them to take advantage of indoor and outdoor surfaces. The Two-Piece White Felt Tongue provides a comfortable feel as well as good protection for the top of the foot.
The Vapor X50R skate uses a sublimated woven mesh quarter package that includes the signature Vapor X-Rib design on the heel. This excellent feature gives players top notch support and stability.
Model Number: 1041812
Heritage: Vapor XR2
Level of Play Guideline: Recreational
Fit Guidelines: General fit aspects of the Vapor boot are low-medium volume, medium ankle area, medium across top of foot and forefoot and medium toe box.
Sizing Guidelines: Bauer skates generally fit 1 1/2 sizes down from your regular shoe size
Quarter Package:

Sublimated Woven Mesh with improved molded X-rib pattern


The signature X-rib design provides excellent stability and support throughout the entire boot for explosive acceleration and aggressive turning

Liner:
Heel Support:

Exterior embossed heel cup and ankle support

Tongue Construction:

Anatomical, 2-piece 40 oz. felt with metatarsal guard

Outsole:
Frame:

Two-piece Hi-Lo™ Vanguard™ Accelerator Aluminum Frame


Utilizes (2) 76mm in the front and (2) 80mm in the rear

Offers an aggressive angle of attack for agility while maintaining a low center of gravity

Bauer Square Flush Two-Piece 6mm Axles

Wheels:

Hi-Lo™ HL2 78A Multi-Surface wheels

Bearings:

Hi-Lo™ Abec 7 608 bearings

Weight of a Size 9R Skate:
Comments: been using these skates about 4 months now, the skates fit great i did not bake them and broke in about 4 uses. i play in an outdoor cement rink 1-2 times a week and these skates can last... however, at my skill level i can tell the "bang for your buck" option wasn't the best path to take, although great skates i tend to push them past their limits and will feel lack of support in the boot and heel guard. definitely love the vapor line and will try the 60s next.
invest in better skates if you're already decent at hockey you will notice
From: Richie, San Diego, CA
Comments: Very good skates for its price point. It has a good comfortable tight fit around the ankles for pretty good support. All though there seems to be a decent amount of space in the toe area and it's a little loose. Which is too much space/room in the toe area for me, I can't accelerate as fast as I usually would. But other than that, I like them they're not bad at all.
From: Tarick, Buffalo, NY
Comments: Great skates for beginner. If starting try these!
From: Jaan, CA
Other Items to Consider
Bauer Roller Hockey Skates Senior
The Bauer Vapor APX2R Roller Hockey Skates are one of the greatest roller hockey skates the market has seen to date. The Vapor APX2R features the exclusive 3D Lasted Curv® Composite Uppers, Injected Stability Lacing System, Hi-Lo™ Aluminized Kryptonium chassis and Revision Variant Plus 74A wheels.

The Bauer Vapor X90R Roller Hockey Skates are perfect for the advanced level player who's looking for an affordable advanced level skate. The X90R features a full fiber composite outsole and an Ultra-Lightweight Tech-Mesh quarter package to provide an elite-level of stiffness and responsiveness.
The Bauer Vapor X70R Roller Hockey Skates offer a great balance of value and performance. The X70R skate showcases Hi-Lo™ Clinger XXX Grip wheels that provide excellent grip while the Abec 9 bearings help to maximize speed. The moisture wicking Microfiber Liner helps to keep your feet dry during the game and decrease drying time at home.


Bauer Vapor X60R Roller Hockey Skates Sr

The Bauer Vapor X60R Roller Hockey Skate features the Vanguard™ Accelerator frame, which is the first one-piece chassis to be used in the Vapor Line. The Accelerator holds Hi-Lo™ HL1 76A Indoor Wheels with Abec 7 bearings, providing players with great grip and speed on indoor surfaces. The Sublimated Tech Nylon quarter package offers a solid jump in stiffness and responsiveness for intermediate level players.
The Bauer Vapor X50R Roller Hockey Skate offers good performance and versatility. The X50R features the Hi-Lo™ Vanguard™ Violater Frame that holds Hi-Lo™ Multi-Surface wheels, allowing them to take advantage of indoor and outdoor surfaces. The Two-Piece White Felt Tongue provides a comfortable feel as well as good protection for the top of the foot.

The Bauer Vapor X40R Roller Hockey Skate is the entry level model in the Bauer Vapor Line. This X40R showcases the signature Vapor X-Rib design that provides stability and support for the entire boot. The Hi-Lo™ frame utilizes Hi-Lo™ 82A outdoor wheels so that these skates can be used on just about any surface.

Sizes Available: