Bauer Vapor X3.0 Ice Hockey Skates Sr

Was: $149.99

Now: $99.99

You Save: $50.00

Free Shipping!
view large
360 View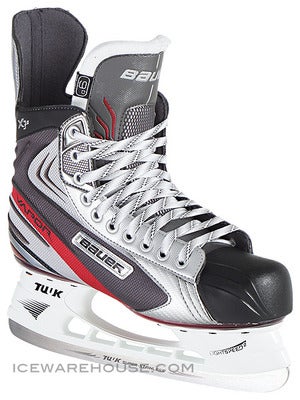 The Bauer Vapor X3.0 ice hockey skates are an excellent buy for a recreational level player. The Vapor 3.0 skates offer an some higher end features which can be hard to find in this price range. The Bauer Vapor X 3.0 is the first model in the vapor line to offer the felt tongue with a meatarsal guard, as well as the top end LS2 blade holder.
The dense nylon based quarter panels offer good support with some great durability. The 3.0 skates feature a traditional white felt tongue for a more traditional feel. The Pro-8 beveled TPU outsole offers a light weight feel while providing a responsive but slightly forgiving feel.
Model Year: 2011
Model Number: 1037001
Heritage: Bauer Vapor X20
Level of Player: Ideal for the recreational to intermediate level player
Fit Guidelines: General fit aspects of the Vapor boot are low-medium volume, medium ankle area, medium across top of foot and forefoot and medium toe box.
Sizing Guidelines: Bauer skates generally fit 1 1/2 sizes down from your regular shoe size
Quarter Package: Sublimated tech nylon with thermoformed X-rib

Thermoformable - Material will mold to the players foot for a precise fit
The X-ribbed design (seen from looking at the back of the boot) was designed to enhance the performance of the patented Vapor monostructure quarter for unparalleled response and dynamic movement. Developed to enhance key support zones throughout the ankle and foot delivering quicker acceleration and greater stability.

Liner:
Heel Support:

Exterior embossed heel cup/ankle suport

Ankle Padding:
Tongue Construction:

Anatomical, 2-piece 40 oz. felt with metatarsal guard

Footbed:

Molded with Integrated heel support

Outsole:

Lightweight, Pro-8 beveled TPU

Blade Holder and Runner:

Tuuk Lightspeed 2 with Tuuk Super stainless steel runner
Optimized height for tightest turns - 3mm increase in height on the Lightspeed holders delivers the tightest turning radius in the industry
Weight of a Size 9D Skate: 861.8 grams
Made In:
Comments: I just got these skates today as a birthday gift, i play hockey around twice a week so i figured i'd step up to these from my x1.0 and i managed to get a skate on them today and it was incredible, the comparison to the previous skate was crazy and i saw this as soon as i touched the ice, would recommend these to someone that plays like i do, incredible skate, so happy with the so far.
From: Sam, England
Comments: I personally did not like these skates at all. Coming over from high end Supremes, I felt so unstable on these and I had to really think about skating during the game. Felt like i was almost leaning backwards, even though Vapor claim to put your weight forward. Looked like a rookie for a season until i finally ditched them for the Supreme One.7's. I can not say enough about how valuable a great pair of skates is. spend and extra $150 or so and you will take your game to another level.
From: JP, Maryland
Comments: There is so much to say about a skate like this. When I first started playing ice hockey, I did not want to spend so much money. I first looked at this skate and I felt in love. The design here is sick as well as the technology in a skate like this. I have been using this skate for a year and a half now. It is super durable and strong and withstands any shots or stick that has hit it. They are super lightweight, so you do not feel like you are lugging around a lot. And it is extremely responsive. These are great for sprinting and quick, hard stops as well as hard cornering. Playing as a center, this is exactly what I need. Best skates ever!!!
From: Melanie
Comments: These skates are extremely exceptional for anyone that is experienced and is moving onto that intermediate level. The boot is pretty stiff, Very comfortable, & Overall stylish. Just what id expect from the vapor series. Been skating in these for about 2 months. Cant be any happier. (:
From: Angel, Kendal, FL
Comments: These skates are extremely exceptional for anyone that is experienced and is moving onto that intermediate level. The boot is pretty stiff, Very comfortable, & Overall stylish. Just what id expect from the vapor series. Been skating in these for about 2 months. Cant be any happier. (:
From: Angel, FL
Comments: If your looking for some strong and cheap skates this is the way to go. Great skate, great price, nice looking skate. Easy to mold and brake in, and it's a comfortable skate....overall great buy!!!!!!
From: Jon, Las Vegas, NV
Comments: These are my first pair of Bauer skates I've ever owned or skated in, and so far I like them! The first time I skated in these was more of a leisure skate than anything (Millennium Park), and I already started to feel the skates were broken in after about an hour and a half of skating. This is an exceptional skate for all, and the best part about these is they don't break the bank either. Fit is a bit narrow but you get used to it after skating a few times in these.
From: Vadim, Chicago, IL
Comments: Great skate for the price, suggest getting a wider size than normal due to the fact they fit tighter, but more custom fit once baked.
From: Sam, Mililani, HI
Comments: Excellent Skate for the price, easy to bake, EE width is perfect for us wide feet men. Skate on them for open hockey once or twice a week, so not a ton of use, but they feel broken in already!
From: Tom
Comments: Decent skate for the price, I heated mine up in the oven and got them to break in nice and quick. Worn three different Bauer Vapor line skates, and I like these the same as the pricier ones.
From: Chris
Comments: Decent skate for those who just started out playing hockey. skates held out well after 1 season of league play with minor wear and tear. I would recommend purchasing a pair of superfeet and wax laces to go with this
From: Eric
Comments: great skates broke them in so quick there super comfortable and they do a superb job at skating the best skates I've ever owned
From: Tyler
Comments: Great skates. Played in them for a few hours today and had no issues afterwards with soreness/blisters. Much smoother and lighter than my previous Bauer Supremes. They feel like they're already broken in. I now see why this line is so popular at all levels.
From: Brian, Virginia, USA
Comments: I just got these skates and they are amazing it only took me a couple of hours to break them in. And they are strong comfortable and they help give you maximum power when u skate. And they are very durable, buy these skates NOW!
From: Wata boss
Comments: Awesome skates, pretty lightweight for the price, and provide a
nice amount of stiffness for an intermediate leveled hockey player. Got
these a couple months ago and right now, they show almost no signs of
wear or tear. Really durable skate, and definatley worth the price.
From: Maaz, Milton, Ontario, Canada

Similar Items
Bauer Vapor Ice Hockey Skates
Speed and Agility