Bauer Supreme TotalOne MX3 Ice Hockey Skates Sr

Was: $849.99

SALE: $649.99

Free Shipping!

Lowest Price Guarantee
view large
360 View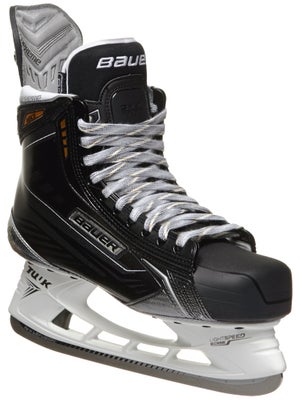 The Bauer Supreme MX3 Ice Hockey Skates are the culmination of Bauer Supreme tradition and innovative modern technologies. The flagship MX3 uses the premier Curv© Composite Quarter, an injected-stability lacing system, a 3-Flex Tongue and Tuuk Fusion Runners; making it the lightest and most-efficient skate to ever hit the hockey market.
The featherlight feel of the MX3 was accomplished through a handful of weight-saving technologies. The most noticeable is the premium Curv© Composite Quarter Package that offers superior stiffness, support and weight-reduction. It offers an anatomical, close-to-the-foot fit with excellent heat-moldability.
New to the Supreme Line is the Injected Stability Lacing System that was first debuted on the APX2 ice hockey skate. Bauer improved on the original design by adjusting it to better wrap over the top of the foot, offering a refined fit with all of the added benefits of increased stability and support. The 3-Flex Tongue with re-engineered Curv© Composite inserts allows for customizable forward flex and spring-return, while simultaneously saving weight.
The lowers consist of the new Edge Holder that sits 3 mm higher in the front and rear post, allowing players to get over even further on their edges without bottoming out. These hold the Tuuk LS Fusion Edge Runners that fuses steel and aluminum together, providing a 27% weight savings compared to a full steel runner. Internally, Bauer used their HydraMax 2 Liner with Comfort Edge and strategic wear patches.
Model Number: 1043514
Heritage: Supreme NXG / TotalONE
Level of Play Guideline: Elite
Fit Guidelines: General fit aspects of the Supreme boot are medium-high volume, medium ankle area, medium across top of foot and forefoot and medium toe box.
Sizing Guidelines: Bauer skates generally fit 1 1/2 sizes down from your regular shoe size.
Quarter Package:

3D AnaFormable Curv© Composite material

Provides a professional-level of stiffness and responsiveness in a featherlight package
Excellent heatmoldability allows for a true 360° personalized fit for everyone's foot shape

Free Flex Tendon Guard

Allows for full stride extension and range of motion
Spring-loaded effect helps to speed up stride intervals

Injected Stability Lacing System

One-piece material makes it 33% easier to forward flex with the same amount of output
New concave design with T-Shaped lace holes for a better hold

Liner:

Hydra Max 2 with High-Frequency Wear Pads

Abrasion-resistant and comfortable liner that wicks away moisture and keeps the foot locked in

Total Edge Comfort Pads

Minimize wear, tear and discomfort at the tops of the ankles

Heel Support:

Exterior 3D injected heel cup

Ankle Padding:

AnaForm Fit Foam Ankle Pads

Tongue Construction:

Customizable 3-Flex Tongue with customizable Curv© composite inserts

Comes with three different tongue stiffeners to customize the forward flex of the skate (Mid, Stiff and Extra Stiff)
Improved side protection and energy return

Footbed:

Form-Fit+ with integrated heel grip support, stabilizer grip support and customizable toe bumpers

Outsole:

Ultra Lightweight and Vented Composite

Provides premier stiffness and responsiveness for speed and agility
Exhaust vents push moisture out of the boot, keeping feet dry and decreasing drying time

Blade Holder and Runner:


Tuuk LightSpeed Edge Holder

3mm taller in the front and rear post to provide a more aggressive turning radius without bottoming out
Innovative trigger system allows the runners to be changed in seconds, keeping you off of the bench

Tuuk LS Fusion Edge Runner

Revolutionary runner design that capitalizes on the strength of steel and the weight of aluminum, reducing the overall weight by 27%
Elite stainless steel lower with a high-grade aluminum upper

Weight of a Size 9.0D Skate:
Comments: Just made the switch from Vapor APX2 skates to the MX3's. Pros vs Vapors:
-The MX3's are so much more lighter
-New Lock lace system keeps laces tight without needing wax laces
-Tongue flex inserts + great puck protection
-Back calf flex (Soo nice to have, more mobile)
-D width on Supremes fit perfectly for people with E width feet.
From: Tony, Palo Alto, CA
Comments: Play every monday night and used to skate CCMU+12 which were solid midline skates. First time w/ top of the line skates and was shocked w how responsive the blades are ! Had comfortable boot experience on first skate ( u must bake these & dont do it in your kitchen). great first impression, hope to get long use out of them .stay tuned
From: Marc X, Weehawken, NJ
Comments: best skate I have ever used and owned.Bauer has definitely mad some major improvements from the previous total one NXG skate. but the MX3, when I put them on I was very surprised and impressed on the comfort and lightweight feel for these skates. the new holders really helps getting into tight turns and the trigger comes in handy very well. these are the best skates I have ever owned but if you have the cash I would definitely buy them
From: Alex, Brisbane, Australia
Other Items to Consider
Similar Items
Supreme Ice Hockey Skates
Contoured Fit
The Bauer Supreme MX3 Ice Hockey Skates are the culmination of Bauer Supreme tradition and innovative modern technologies. The flagship MX3 uses the premier Curv© Composite Quarter, an injected-stability lacing system, a 3-Flex Tongue and Tuuk Fusion Runners; making it the lightest and most-efficient skate to ever hit the hockey market.

Sizes Available: 6.0, 7.5, 8.0, 8.5, 10.0, 11.0, 12.0

The Bauer Supreme TotalONE MX3 LE Ice Hockey Skates come with all of the same high performance features as the original MX3, but these limited edition's have a cool, aggressive black quarter package with a signature "Supreme Yellow" Hydra Max 2 Liner. The MX3 LE Skates also utilize a Free-Flex Tendon Guard, an innovative Injected Stability Lacing System and a customizable 3-Flex tongue.

Sizes Available: 7.0, 10.0, 11.0
The Bauer Supreme 190 Ice Hockey Skates are a pro-level hockey skate without the pro-sized price tag. The 190 utilizes the signature Bauer Supreme Free Flex Tendon Guard, a full composite outsole, a pro-spec 52 oz felt tongue and the same Curv© Composite Quarter Package found as the MX3.

Sizes Available: 7.0, 7.5, 8.0, 8.5, 9.0, 10.0

The Bauer Supreme 180 Ice Hockey Skates are the best bang-for-your-buck model in the Supreme Line due to the pro-level Curv© Composite Quarter Package (which is also found on the flagship MX3.) The 180's full composite quarter not only provides top notch responsiveness but can also be thoroughly heat molded for a true 360 degree personalized fit after baking.

Sizes Available: 6.0, 6.5, 8.5, 9.5, 10.0, 10.5, 11.0, 11.5, 12.0
The Bauer Supreme 170 Ice Hockey Skates are the middle price point model in the Bauer Supreme Skate Line. The 170 Ice Skate features a solid 3D Ultra Lightweight Tech Mesh Quarter Package that is fully heatmoldable for comfort and support. The upgraded 48 oz, two-piece white felt tongue includes high density foam reinforcement for impact and lace bite protection.

Sizes Available: 7.0, 8.5, 10.0, 10.5, 11.0

The Bauer Supreme 160 Ice Hockey Skates are a generously priced mid-level skate that is filled with performance features. The Pro Sublimated TPR outsole offers a lightweight, responsive feel while the new Tuuk Edge Holder offers one of the tightest turning radius' in the game. This Edge Holder also has a quick release trigger mechanism that allows players to swap out steel in seconds.

Sizes Available: 6.5, 8.0, 8.5, 9.0, 9.5, 10.0, 11.5
The Bauer Supreme 150 Ice Hockey Skates are a good choice for the player who needs a boot that can offer stability without being too stiff and uncomfortable. Bauer used their 3D TrueForm Tech PU Quarter Package that has a sleek carbon-look with an anatomical fit. The injected TPR outsole provides sound energy transfer during the skating stride, helping players get the most out of each stride.

Sizes Available: 6.0, 6.5, 7.0, 8.0, 9.5, 11.0, 12.0

The Bauer Supreme 140 Ice Hockey Skates are the entry level model in the Bauer Supreme Line. The 140's feature a Premium Nylon Quarter Package that gives players a great balance of support and comfort, perfect for those who are still learning their stride.

Sizes Available: 12.0