Bauer Supreme One.9 Goalie Ice Hockey Skates Jr

PRICE: $319.99

Free Shipping!

Lowest Price Guarantee
view large
360 View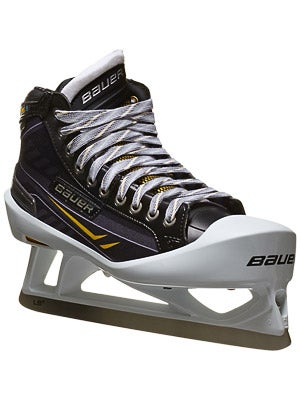 The Bauer Supreme ONE.9 Goal Skate is an excellent goal skate from Bauer designed for the advanced level of play, and introduces many revolutionary advancements that drastically improve performance and comfort.
The SUPREME ONE.9 goal skate introduces the new 3D anaformable ultra lightweight tech mesh boot. The inside of the boot around the ankle is is layered with foam creating an incredibly comfortable feel. The new asymmetric design relieves pressure on the lateral side of the boot, allowing a wider stance and reducing pain that occurs on the outside ankle. The Goalie Comfort Edge features a soft foam on the shorter side of the boot, furthering the level of comfort provided for aggressively wide stances that put considerable pressure on the ankle. The ONE.9 features a pro felt tongue and is taller on the inside edge to prevent the tongue from twisting during play.
The VERTEXX 2.0 cowling has a LS2 stainless steel removable runner which is made up of an incredibly high quality steel that holds an edge longer.
The Bauer Supreme ONE.9 goal skate features incredibly innovative designs specifically tailored to the butterfly style, and has a high level of performance without sacrificing comfort.
Model Number: 1034777
Heritage: ONE100
Level of Player: (Junior)
Sizing Guidelines:

Bauer skates generally fit 1 1/2 sizes down from your regular shoe size. Click on Sizing Chart for more sizing information.
Quarter Package:

3D Anaformable ultra lightweight tech mesh

Liner:
Ankle Padding:

Soft Foam

Additional comfort and support

Asymmetric design
Tongue Construction:

Extended Pro felt tongue

Protection against lace bite
Prevents twisting

Footbed:
Cowling/Runner:


Reinforced VERTEXX 2.0 Cowling
3mm LS2 removable stainless steel runner

Weight:
Other Items to Consider
Similar Items
Bauer Hockey Goalie Ice Skates Junior & Youth