Bauer Supreme ONE.8 Ice Hockey Skates Sr

PRICE: $469.99

Free Shipping!

Lowest Price Guarantee
view large
360 View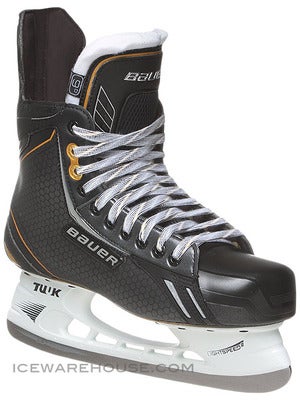 The Bauer Supreme One.8 Ice Hockey Skates offers great value with advanced performance and a reasonable price.
The Supreme One.8 skate features formable tech mesh material in the quarter package. This is a great lightweight material that offers excellent durability and cut resistance properties. The One.8 ice skate also offers the 3D anaformable design so it will give you a great custom fit once the skate is baked or broken in.
Bauer has used a traditional tongue design featuring a 48 oz. white felt tongue. This tongue also features a high-density lace bite guard. This type of lace bite guard allows for forward flex but still offers additional protection.
Model Number: 1000970
Heritage: Supreme One80
Level of Player:

Ideal for the intermediate to advance level player

Fit Guidelines: General fit aspects of the Supreme boot are medium-high volume, medium ankle area, medium across top of foot and forefoot and medium toe box.
Sizing Guidelines: Bauer skates generally fit 1 1/2 sizes down from your regular shoe size
Quarter Package: 3D Anaformable light weight tech mesh upper
Liner:

Hydrophobic TRUE-SUEDE synthetic leather

Heel Support:

Exterior 3D injected heel cup

Ankle Padding:

Lightweight Anaform Fit foam ankle pads

Tongue Construction: Anatomical, 48 oz. 2-piece felt tongue

With high-density metatarsal guard
Traditional feel that offers additional lace bite protection

Footbed:

FORM-FIT with Stabilizer grip

Outsole: Full composite
Blade Holder and Runner:


Tuuk Lightspeed 2
LS2.1 Power stainless steel runner - Longer length offers a better glide for your stride

Weight of a Size 9D Skate: 839 grams
Comments: These skates are flat out amazing. Well before you get these, I will WARN YOU, these are a b*tch to break in. I get on the ice about 4-6 times a week and it took me several months to break into these. Before I broke em in, they hurt and felt terrible, but now I get the most explosive speeds and tightest turns out of them. The amount of stiffness it gives is perfect and getting shot with a puck does not hurt that much; actually this boot is literally as hard as rock.
Bottom line, these are best for those who have explosive speeds whenever the opportunity presents itself (like a breakaway of loose pucks). Personally I would recommend putting black edge or step steel runners to improve turns and stops. However overall these are great skates.
From: Chris, NJ

Comments: These skates are real nice, but the plastic from the toe cap mold where it connected to the boot near the upper arch really dug into the knuckle on my big toe. had to return them and get a EE. I have never worn a EE in and any shoe or skate.
From: Chris
Comments: I bought these skates for High School hockey because I skated 6 days of the week and needed a skate that was durable and strong and will
last long! The supreme .8 did just that. This is a great price if you want some of that high end preformence. I can't wait to see what bauer is going to come out next for this line!! MUST BUY ITEM!!
From: Khan, Quebec, Canada
Comments: Just one stride proved that this was the best buy of my hockey career. The stiff boot is perfect and feels as if the skate is pushing my strides. Turns are sharp and smooth with no slip or stumble. The tongue has a lot of stiffness in it too and I never had lace bite once. I have never skated so fast or so confident before because these skates let me do anything. SO WORTH IT
From: John, NJ
Comments: These are.the best skates i.ever had,i love them i bought 2ápair my foot is wide so they fit good have good balance and support i play college hockey in them they are legit get you a pair u want regret it trust me its worth the price
From: Corey, TX
Comments: Great skates very durable and confortable if you used the one80's these are the better version if the one80's reccomend these to any player that dosent want to pay high-end price.
From: Khushdil, Laval, Quebec, Canada
Comments: Great skates very durable and confortable if you used the
one80's these are the better version if the one80's reccomend these to
any player that dosent want to pay high-end price.
From: Khushdil, Quebec, Canada
Comments: Bauer supreme skates are a really good fitting skates
From: Nick, Alberta, Canada

Other Items to Consider
Supreme Ice Hockey Skates
Power in Every Stride

The Bauer Supreme TotalOne NXG Ice Hockey Skates is the next evolution of the famous TotalOne skate that made waves in 2010. New for 2012, the NXG advances on the great fit, comfort and responsiveness of the original TotalOne skate.

The Bauer Supreme One.9 Ice Hockey Skates offer a great advanced level of performance and fit in one high performance package. Very similar in materials and design to the TotalOne NXG, the Supreme One.9 features a 2-piece, anatomical felt tongue for a more traditional fit and feel.
The Bauer Supreme ONE.9 LE Ice Hockey Skates offer superb performance, fit and style at an advanced level of play. Much alike the TotalONE NXG in the components and materials, this Supreme ONE.9 Limited Edition boasts a more comfortable and traditional fit.

The Bauer Supreme One.8 Ice Hockey Skates are great for intermediate to advanced level skaters looking for a lightweight, form fitting skate without the extreme high cost. Featuring a 3D anaformable design for ultimate fit and comfort, the One.8 skates are a great choice for players looking to advance to a higher level.
At the middle of the line-up, the Bauer Supreme One.7 Ice Hockey Skates offer solid performance for those intermediate to advance level skater. Featuring the same 3D anaformable design like the higher end skates, the Supreme One.7 skates offer an overall great package.

The Bauer Supreme One.6 Ice Hockey Skates are great mid level skates offering ideal support and comfort thanks to moldable foams and a solid quarter package. Ideal for beginners and intermediate players looking for a solid, affordable skate.
The Bauer Supreme One.5 Ice Hockey Skates are perfect for entry level and beginner skaters looking to start out in a higher model that offers support and durability. The One.5 skates feature Bauer's Anaform fit foam for a great fit and durable 3D Truefoem woven nylon for extra durability.

The Bauer Supreme One.4 Ice Hockey Skates are the most affordable skates in the Bauer Supreme skate line. The One.4 skates feature a durable nylon exterior for durability and forgiveness for younger skaters just starting out.