Bauer Supreme ONE.5 Ice Hockey Skates Sr

PRICE: $149.99

Free Shipping!

Lowest Price Guarantee
view large
360 View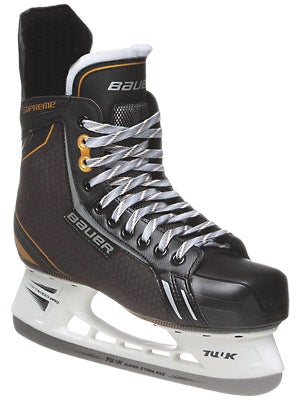 The Bauer Supreme One.5 Ice Hockey Skates are ideal for recreational use or those players that are just starting out and want a skate that will offer a little additional performance than a strictly entry level skate.
The quater package on the One.5 skate is made from 3D Trueform woven nylon and durability and a moldable fit thanks to the Anaform fit foam ankle pads. These skates are perfect for skaters starting out but don't want the bare bones model and a bit more performance.
Model Number: 1000980
Heritage: Supreme One40
Level of Player: Ideal for the entry to recreational level of player
Fit Guidelines: General fit aspects of the Supreme boot are medium-high volume, medium ankle area, medium across top of foot and forefoot and medium toe box.
Sizing Guidelines: Bauer skates generally fit 1 1/2 sizes down from your regular shoe size
Quarter Package: 3D Trueform woven nylon
Liner:
Heel Support:

Exterior embossed heel cup

Ankle Padding:

Anaform fit foam ankle pads

Tongue Construction: Anatomical 2-piece felt

With metatarsal guard
Traditional feel that offers additional lace bite protection

Footbed:
Outsole: Dual-density beveled TPR
Blade Holder and Runner:


Tuuk Lightspeed Pro
Tuuk super stainless steel runner (not replaceable)

Weight of a Size 9D Skate: 853 grams
Comments: These are the first skates that I've owned, and I find them fantastic. My confidence has improved a lot, and they're incredibly comfortable. I think old mate with the 2 defunct ones just struck out. Something I'd definitely recommend to a friend!
From: Sydney, Australia
Comments: Very well made skates and they feel great after skating for 6 hours!!!
From: David, La Quinta, CA
Comments: This skate is amazing. It is very firm and tight, and my skating has improved so much more than my last pair of skates. These are more agile and help me pick up speed when i need too, or slow down to deliver a hit. Wouldn't trade them for the world!
From: Derek, MD

Comments: I was intially happy with these skates but soon was disapointed. First time on the ice the left one started making a "clicking" noise. I KNOW that any "clicking noise" a fixed runner skate makes indicates that the runner is moving, even if ever so slightly. If it's moving it's loose!(contrary to what an Ice Warehouse customer service employee tried to tell me). Don't let anyone tell you different. After time, with the amount of force that is applied to runners, considering your weight and the force being applied by the skating movement, the metal runner WILL eventually win out over the plastic holder. Result, BROKEN HOLDER & MAJOR INJURY! I returned them for replacement and the replacement skates did the same thing but on the right skate! Bauer should be ashamed! My opinion, these are JUNK. I've owned Rec. skates that didn't do this. I would NOT recomend these skates. Save your money until you can buy skates with replaceable runners. Shame on you BAUER!!
From: William, WA
Comments: Very Comfortable and durable
From: Ben, Fremont, MI
Comments: This is the best skates!!!
From: Anton.
Other Items to Consider
Supreme Ice Hockey Skates
Power in Every Stride

The Bauer Supreme TotalOne NXG Ice Hockey Skates is the next evolution of the famous TotalOne skate that made waves in 2010. New for 2012, the NXG advances on the great fit, comfort and responsiveness of the original TotalOne skate.

The Bauer Supreme One.9 Ice Hockey Skates offer a great advanced level of performance and fit in one high performance package. Very similar in materials and design to the TotalOne NXG, the Supreme One.9 features a 2-piece, anatomical felt tongue for a more traditional fit and feel.
The Bauer Supreme ONE.9 LE Ice Hockey Skates offer superb performance, fit and style at an advanced level of play. Much alike the TotalONE NXG in the components and materials, this Supreme ONE.9 Limited Edition boasts a more comfortable and traditional fit.

The Bauer Supreme One.8 Ice Hockey Skates are great for intermediate to advanced level skaters looking for a lightweight, form fitting skate without the extreme high cost. Featuring a 3D anaformable design for ultimate fit and comfort, the One.8 skates are a great choice for players looking to advance to a higher level.
At the middle of the line-up, the Bauer Supreme One.7 Ice Hockey Skates offer solid performance for those intermediate to advance level skater. Featuring the same 3D anaformable design like the higher end skates, the Supreme One.7 skates offer an overall great package.

The Bauer Supreme One.6 Ice Hockey Skates are great mid level skates offering ideal support and comfort thanks to moldable foams and a solid quarter package. Ideal for beginners and intermediate players looking for a solid, affordable skate.
The Bauer Supreme One.5 Ice Hockey Skates are perfect for entry level and beginner skaters looking to start out in a higher model that offers support and durability. The One.5 skates feature Bauer's Anaform fit foam for a great fit and durable 3D Truefoem woven nylon for extra durability.

The Bauer Supreme One.4 Ice Hockey Skates are the most affordable skates in the Bauer Supreme skate line. The One.4 skates feature a durable nylon exterior for durability and forgiveness for younger skaters just starting out.