Bauer Supreme 150 Ice Hockey Skates Sr

Was: $149.99

SALE: $89.99

Free Shipping!

Lowest Price Guarantee
view large
360 View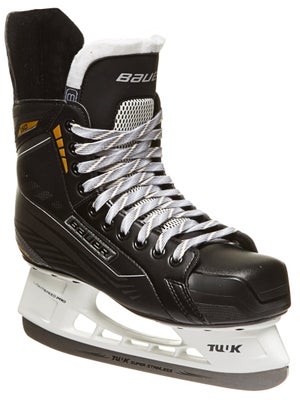 The Bauer Supreme 150 Ice Hockey Skates are a good choice for the player who needs a boot that can offer stability without being too stiff and uncomfortable. Bauer used their 3D TrueForm Tech PU Quarter Package that has a sleek carbon-look with an anatomical fit. The injected TPR outsole provides sound energy transfer during the skating stride, helping players get the most out of each stride.
The traditional two-piece white felt tongue includes metatarsal protection on the top of the foot while the Form-Fit EVA footbed provides a comfortable feel for the bottom of the feet.
Model Number: 1043526
Heritage: Supreme ONE.5 / ONE40
Level of Play Guideline: Recreational
Fit Guidelines: General fit aspects of the Supreme boot are medium-high volume, medium ankle area, medium across top of foot and forefoot and medium toe box.
Sizing Guidelines: Bauer skates generally fit 1 1/2 sizes down from your regular shoe size
Quarter Package:

3D TrueForm Tech PU

Carbon Fiber-like, offering good support and comfort

Liner:

Hydrophobic Microfiber to help keep feet dry

Heel Support:

Exterior embossed heel cup

Ankle Padding:

AnaForm Fit Foam Ankle Pads

Tongue Construction:

Anatomical, two-piece white felt tongue with metatarsal guard

Footbed:
Outsole:
Blade Holder and Runner:


Tuuk Lightspeed Pro Holder
Tuuk Super Stainless Steel Runner
Comments: I love these skates they are very nice and stiff and unlike my inline skates, they don't bend
From: Garrett, Landrum, SC
Other Items to Consider
Similar Items
Supreme Ice Hockey Skates
Contoured Fit
Bauer Supreme 1S Skates showcases Bauer's best and highest performing technologies and materials. After many years of research and design, the 1S features new C-Flex Technology in the tendon guard that provides some of the best range of motion on market, which also can be customized to a player's personal preference.

The Bauer Supreme S190 Ice Hockey Skate is your most traditionally built, pro-level skate in the new Supreme Line. The S190 features Bauer's premier Titanium Curv Composite boot, a full composite outsole, a pro-spec'd tongue and Bauer's pro-preferred LS3 Steel.
The Bauer Supreme S180 Ice Hockey Skate delivers elite-level performance without breaking the bank. The S180 debuts the featherlight Curv Composite quarter package, also found on the 1S, which provides elite-level stiffness and responsiveness. The quarter was designed to be as anatomically correct as possible, meaning it hugs the foot like a glove even before they are heat molded.

The Bauer Supreme S170 Ice Hockey Skates are a feature-filled, mid-price point skate that offers plenty of performance for the intermediate to advanced level player. The Bauer S170 skate has a 3D-lasted boot, made of lightweight Tech Mesh for proper support and stability. The heat-moldable core provides an already anatomically-correct fit out of the box and feels like a custom fitted boot after they have been baked.
The Bauer Supreme S160 Ice Hockey Skate is the first performance-level model in the Supreme Line. The Bauer S160 is the first skate to debut the most popular holder in the NHL, the Tuuk LightSpeed Edge. Although it is 3mm taller that traditional holders for an aggressive angle of attack, it also has a quick release trigger that allows broken or damaged steel to be swapped out in seconds.

The Bauer Supreme S150 Ice Hockey Skates are a solid choice for the beginner who's looking for quality features in an entry-level model. Even though the Super Stainless steel is non-removable, the Supreme S150 skates are built with a more protective two-piece tongue and a 3D True Form Tech PU quarter package that's heat moldable. Internally, the S150 features a hydrophobic liner that keeps a player's foot dry and comfortable.
The Bauer Supreme S140 Ice Hockey Skate is the entry-level model in the next generation Supreme Line. Bauer built the S140 skate with a forgiving Premium Nylon Quarter package which is ideal for the casual or new-to-hockey player. The tongue features a 30 oz., one-piece construction and a LightSpeed Pro Holder that look like what the pro's wear.

The Bauer Supreme MX3 Ice Hockey Skates are the culmination of Bauer Supreme tradition and innovative modern technologies. The flagship MX3 uses the premier Curv© Composite Quarter, an injected-stability lacing system, a 3-Flex Tongue and Tuuk Fusion Runners; making it the lightest and most-efficient skate to ever hit the hockey market.

Sizes Available: 12.0
The Bauer Supreme 190 Ice Hockey Skates are a pro-level hockey skate without the pro-sized price tag. The 190 utilizes the signature Bauer Supreme Free Flex Tendon Guard, a full composite outsole, a pro-spec 52 oz felt tongue and the same Curv© Composite Quarter Package found as the MX3.

Sizes Available: 8.0

The Bauer Supreme 180 Ice Hockey Skates are the best bang-for-your-buck model in the Supreme Line due to the pro-level Curv© Composite Quarter Package (which is also found on the flagship MX3.) The 180's full composite quarter not only provides top notch responsiveness but can also be thoroughly heat molded for a true 360 degree personalized fit after baking.

Sizes Available: 10.0
The Bauer Supreme 170 Ice Hockey Skates are the middle price point model in the Bauer Supreme Skate Line. The 170 Ice Skate features a solid 3D Ultra Lightweight Tech Mesh Quarter Package that is fully heatmoldable for comfort and support. The upgraded 48 oz, two-piece white felt tongue includes high density foam reinforcement for impact and lace bite protection.

Sizes Available: 10.0, 10.5, 11.0

The Bauer Supreme 150 Ice Hockey Skates are a good choice for the player who needs a boot that can offer stability without being too stiff and uncomfortable. Bauer used their 3D TrueForm Tech PU Quarter Package that has a sleek carbon-look with an anatomical fit. The injected TPR outsole provides sound energy transfer during the skating stride, helping players get the most out of each stride.

Sizes Available: 7.0, 7.5, 9.0, 10.0, 11.0
The Bauer Supreme 140 Ice Hockey Skates are the entry level model in the Bauer Supreme Line. The 140's feature a Premium Nylon Quarter Package that gives players a great balance of support and comfort, perfect for those who are still learning their stride.

Sizes Available: 9.0, 10.0, 11.0