Bauer Nexus 400 Ice Hockey Skates Jr

Was: $149.99

CLEARANCE: $87.97

Free Shipping!

Lowest Price Guarantee
view large
360 View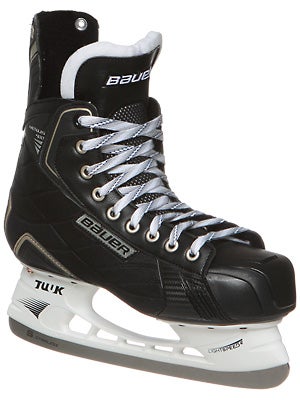 The Bauer Nexus 400 Ice Hockey Skates are ideal for the beginner to intermediate players. The Nexus line offers a wider and softer boot with a clean look.
The Nexus 400 skates have a variable stiffness compression molded EVA quarter package with sport nylon to make them durable yet lightweight. A stiffer back portion and more flexible forefoot provide this skate a great fit.
Model Number: 1000998
Heritage: Flexlite 3.0
Level of Player: Ideal for the beginner to intermediate level of player
Fit Guidelines: General fit aspects of the Nexus boot are medium-high volume, narrow heel area, medium-wide across top of foot and forefoot and medium-wide toe box.
Sizing Guidelines: Bauer skates generally fit 1 1/2 sizes down from your regular shoe size
Quarter Package: Variable stiffness Compression molded EVA with performance nylon

Compression molded EVA foams provide soft and flexible feel
Stiffer ankle and heel provides great response
Flexible forefoot provides a more forgiving feel
Thermoformable - Material will mold to the players foot for a precise fit

Liner:
Heel Support:

Patented pro-integrated, anatomical heel/ankle support

Ankle Padding:

Anaform Fit foam ankle pads

Tongue Construction:

Anatomical White 40 oz 2-piece felt tongue
Molded metatarsal guard helps prevent lace bite

Footbed:
Outsole: Lightweight, Pro-8 beveled TPU
Blade Holder and Runner:


Tuuk Lightspeed 2
Tuuk Super Stainless steel runner
Other Items to Consider
Bauer Nexus Ice Hockey Skates
Tradition & Technology

Bauer Nexus 7000 Ice Hockey Skates Jr

The Bauer Nexus 7000 Ice Hockey Skates offer a high level of performance at a generous price. This 7000 utilizes a stiff, lightweight Tech Mesh Quarter Package and a Full Composite Outsole for solid responsiveness and stability.


Bauer Nexus 5000 Ice Hockey Skates Jr

The Bauer Nexus 5000 Ice Hockey Skates are a great choice for the entry to intermediate level player. The Nexus 5000 features a fully thermoformable quarter package for a custom and personalized fit. The quarter package shell utilizes Integrated Speed Flex Channels that are similar to the Vapor-Series' X-Ribs, providing support and stability for the entire skate.

Bauer Nexus 6000 Ice Hockey Skates Jr

The Bauer Nexus 6000 Ice Hockey Skates are geared for the intermediate to advanced level player looking for a solid performing ice skate with a traditional fit and feel. The pro-style 48 oz. white felt tongue alongside the hydrophobic grip liner offers a classic look and an ever better feel.


Bauer Nexus 4000 Ice Hockey Skates Jr

The Bauer Nexus 4000 Ice Hockey Skates are the entry-level model in the Nexus Skate Line. The Nexus 4000's offer a traditional and classic look, including the Tuuk LightSpeed Pro Holder and a white felt tongue. These Nexus skates feature the widest fit and highest instep out of all three Bauer Skate Lines.

Bauer Nexus 4000 Ice Hockey Skates Yth

The Bauer Nexus 4000 Ice Hockey Skates are the entry-level model in the Nexus Skate Line. The Nexus 4000's offer a traditional and classic look, including the Tuuk LightSpeed Pro Holder and a white felt tongue. These Nexus skates feature the widest fit and highest instep out of all three Bauer Skate Lines.


Bauer Nexus 400 Ice Hockey Skates Jr

The Bauer Nexus 400 Ice Hockey Skates are ideal for the beginner to intermediate players. The Nexus line offers a wider and softer boot with a clean look.

Sizes Available: 2.5