| | |
| --- | --- |
| Bauer Flow Recreational Ice Skates Mens | PRICE: $49.99 |
view large
360 View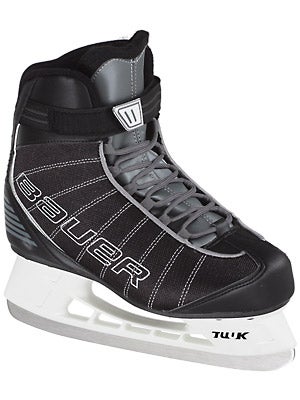 The Bauer Flow Recreational Ice Skates are a comfortable, affordable skate perfect for skating around the pond with your family or on those special dates at the skating rink. The Flow skates feature a warm and comfortable nylon lining on the interior and an ankle strap for extra support along with the #1 selling TUUK blade holder for an ice hockey skate look and feel.
Model Number: 1036174
Level of Player: Ideal for the recreational player
Sizing Guidelines: Runs true to men's shoe size
Quarter Package:

Deco-stitched performance nylon

Liner:
Support System:
Ankle Padding:

Foam inserts for added comfort

Tongue Construction:
Footbed:
Outsole:

TRP - provides tighter turning ability and max energy transfer

Blade Holder and Runner:

TUUK LS Pro holder
Stainless steel runner
No feedback at this time.
Bauer Recreational Ice Skates Men's & Women's
The Bauer Flow Recreational Ice Skates are a comfortable, affordable skate perfect for skating around the pond with your family or on those special dates at the skating rink. The Flow skates feature a warm and comfortable nylon lining on the interior and an ankle strap for extra support along with the #1 selling TUUK blade holder for an ice hockey skate look and feel.

Sizes Available: 6.0, 7.0, 8.0, 9.0, 10.0, 12.0

The Bauer Women's Flow Recreational Ice Skates are a comfortable, affordable skate perfect for skating around the pond with your family or on those special dates at the skating rink. The Flow skates feature a warm and comfortable nylon lining on the interior and an ankle strap for extra support along with the #1 selling TUUK blade holder for an ice hockey skate look and feel.

Sizes Available: 5.0, 6.0