Bauer Flow Men's Recreational Ice Skates

PRICE: $59.99

Free Shipping!

Lowest Price Guarantee
view large
360 View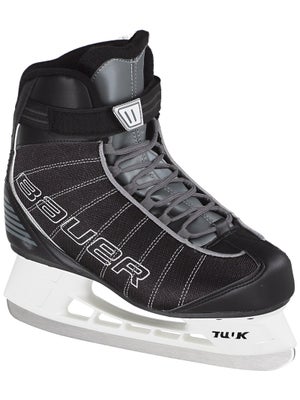 The Bauer Flow Recreational Ice Skates are a comfortable, affordable skate perfect for skating around the pond with your family or on those special dates at the skating rink. The Bauer Flow ice skates come with a warm and comfortable nylon liner, an ankle strap for extra support along and the #1 selling TUUK blade holder for an ice hockey skate look and feel. Unlike Bauer hockey skates, these Bauer Flow skates run true to men's shoe sizing.
Model Number: 1036174
Level of Play Guideline: Recreational
Bauer Sizing Guidelines: Bauer Flow skates run true to men's shoe size but do not come in 1/2 sizes. IW recommends ordering the same size Flow skate as your shoe size, or 1/2 size down if your shoe size falls between two sizes.
Quarter Package:

Deco-stitched performance nylon

Liner:
Support System:
Ankle Padding:

Foam inserts for added comfort

Tongue Construction:
Footbed:
Outsole:

TRP - provides tighter turning ability and max energy transfer

Blade Holder and Runner:

TUUK LS Pro holder
Stainless steel runner
Comments: I am NOT a hockey skater. That being said, the first pair of skates I purchased a few years ago were iTech hockey skates and hurt my feet immediately. But, I was told that's just the way hockey skates are. Well, why use hockey skates, then? I occasionally ice skate and for recreation only. A quick Google search for "comfortable ice skates" found these Bauer Flow Recreational Ice Skates. On sale and with a 25% off promo code, it was a no-brainer to snag these for $42. Wearing the Bauer Flow skates makes me wonder why anyone would put up with using hockey skates for recreational use. This is the first time I have been able to skate for more than ten minutes without pain. The Bauer Flow skates did have a minor tightness and rubbing on the inside ankles- but they're still pretty new and might wear-in. Overall, this is almost as comfortable as a regular shoe with minor cushioning on the inside plus a fairly soft footbed. When my girlfriend tried them on she immediately wanted a
pair (she's worn figure skates her entire life). Unfortunately, these Bauer Flow skates are difficult to find- we hope they make more!
From: Paul, Duluth, MN
Comments: I love these skates! I purchased them for casual ice skating because my old ones were well.....old! If you tie them too tightly then it will hurt the heel of your foot, but once i corrected this the skating was very comfortable and satisfactory! Overall I consider the skates excellent quality for the price!
From: Bailey, Pittsburgh, PA
Comments: Just bought these skates for skating around at the local rink. Only had them out once so far, and so far so good. Much more comfortable than the rentals! I have never been in a skate this comfortable. Also, I guess I've never been on freshly sharpened skates, the guys at my local rink sharpened them for me. I've never been so fast or so confident on a pair of skates. If you want a hockey skate but you are not actually playing hockey then these are definitely the skates you are looking for.
From: Jeff, Independence, MO
Other Items to Consider
Bauer Recreational Ice Skates Men's & Women's
The Bauer Flow Recreational Ice Skates are a comfortable, affordable skate perfect for skating around the pond with your family or on those special dates at the skating rink. The Bauer Flow ice skates come with a warm and comfortable nylon liner, an ankle strap for extra support along and the #1 selling TUUK blade holder for an ice hockey skate look and feel. Unlike Bauer hockey skates, these Bauer Flow skates run true to men's shoe sizing.

Sizes Available: 6.0, 7.0, 8.0, 9.0, 11.0

The Bauer Women's Flow Recreational Ice Skates are a comfortable, affordable skate perfect for skating around the pond with your family or on those special dates at the skating rink. The Bauer Flow ice skates come with a warm and comfortable nylon liner, an ankle strap for extra support along and the #1 selling TUUK blade holder for an ice hockey skate look and feel. Unlike Bauer hockey skates, these Bauer Flow skates run true to women's shoe sizing.

Sizes Available: 5.0, 11.0