Alkali RPD Shift Roller Hockey Skates Sr

PRICE: $399.99

Free Shipping!

Lowest Price Guarantee
view large
360 View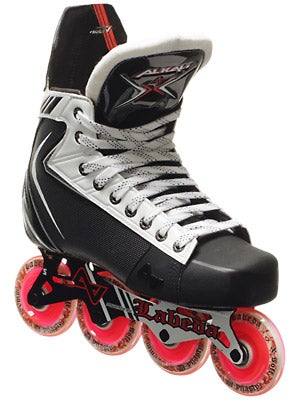 The Alkali RPD Shift Roller Hockey Skates feature the same boot seen on the flagship RPD Max skate but with different lowers. The RPD Shift skates utilize a full composite outsole, the CNC Extruded Labeda Movement frame and (4) Labeda Dynasty III 74A wheels.
This Alkali RPD Shift features a pro-level boot with top notch stiffness and comfort. The Super Light AEPE quarter package features the new Pro Roller Last that widens the forefoot by 2 mm, providing even more comfort than before. The outsole is made of a carbon composite for excellent responsiveness and has a low-profile cutout that allows the second wheel from the toe to be recessed into the boot. This gives the player a lower center of gravity, a more aggressive turning radius, a better balanced feel and a more efficient power transfer during the skating stride.
The Labeda Movement Frame holds (4) Labeda Dynasty III wheels that are rolling on Swiss Lite 608 bearings for superior roll and grip. The 9mm Pro White Felt tongue features thorough perforation for airflow while the high density foam lace bite guard insures solid protection for the top of the foot. The pro-style hydrophobic liner helps to wick away moisture but also has anti-slip properties to make sure no power is lost in the heat of a big game.
Heritage: CA9
Level of Player: Ideal for the advanced to pro level player
Fit Guidelines: General fit aspects of the Alkali boot are med-high volume, narrow-med heel pocket, medium-wide across top of foot and forefoot and toe box. Aggressive stance.
Sizing Guidelines:

For players with a shoe size 9.5 or smaller, select a full skate size (1.0) down from your shoe size
For players with a shoe size 10 or larger, select a half skate size (1/2) down from your shoe size
Quarter Package:

AEPE Molded Quarter Package

Provides proper stiffness and support for explosive power
Excellent heat moldability after being baked for a true personalized fit

Reduced Toe Spring

Decreases the angle of the boot from the balls of the feet to the toes
Allows players to get over the front of the skate and power through stride

Ankle Foams and Heel Support:

HyperLock L Pads

Memory foam ankle pads strategically lock heel for maximum power transfer

Flexible Tendon Guard

Allows players to achieve a full extension

Liner:

Hydrophobic Anti-Slip Liner

Excellent moisture wicking properties to keep your feet dry
Anti-Slip helps to keep the foot locked in so power isn't lost during the stride
Soft to the touch

Tongue Construction:

Three-Piece 9mm Pro White Felt Tongue with an Anti-Lace Bite Insert

Fully ventilated for good airflow without sacrificing protection
High Density foam offers solid protection and heat moldability

Comes with an extra set of red laces

Outsole:

Carbon Fiber Outsole

Provides a professional level of stiffness and responsiveness
Built-in low profile wheel channels designed for the Movement Chassis

Frame:

Labeda Movement One-Piece Aluminum Chassis

CNC Extruded for a high quality and long lasting finish
Recessed second wheel gives the player a more aggressive skating stance and a lower center of gravity

Greatly improves balance, has a more aggressive turning radius and allows players to get more out of each stride

Size 6.0 = all 76mm wheels
Sizes 7.0 - 13 = all 80mm wheels
Two-piece axle design

Wheels:

Labeda Dynasty III 74A Indoor Wheels

Triple durometer construction provides excellent grip and powerful speed

Bearings:
Weight of a Size 9D skate: 1,428 grams
Other Items to Consider
Alkali Roller Hockey Skates Senior
Alkali Hockey has returned with the full line up of RPD roller hockey skates. Every model (RPD Max, RPD Shift, RPD Team, RPD Comp, RPD Crew and RPD Lite) features the new Labeda Movement Chassis that was designed specifically to work with each boot. The second wheel from the toe recesses into a low-profile cutout and lowers the player's center of gravity, allowing them to have a more aggressive turning radius and a much improved balanced feel compared to the previous Alkali Line. Alkali also went after a flashier look this year, using vibrant fluorescent colors and accenting them with white quarter package materials.